Forex MACD Divergence trading strategy — is one of the quite reliable systems and is based on the standard MACD indicator. This strategy's primary signal is the divergence between the MACD line and the currency pair rate. This system has somewhat fuzzy entry and exit points, but it's straightforward to spot the signal, and the trades can be very profitable, as it helps catch the pull-backs and trend reversals.
MACD Divergence Trading Strategy Features
Easy to spot signals.

Used Only one standard indicator

The excellent profit potential on positions.

Take-profit and stop-loss levels are somewhat indefinite.

Rare occurrence on the long-term mt4 charts.
Strategy Set-Up
Any mt4 currency pair and timeframe should work. But shorter mt4 timeframes are recommended, as they yield more opportunities.
Add MACD (Moving Average Convergence/Divergence) forex indicator to the chart, set the Fast EMA period to 12, Slow EMA to 26, and MACD SMA to 9; apply to Close.
Entry Conditions
Enter a Long position when the price shows a bearish trend, and the MACD indicator shows a bullish trend.
Enter a Short position when the price shows a bullish trend and the MACD forex indicator shows a bearish trend.
Exit Conditions
Set stop-loss(SL) to the nearby support level when going Long or to the nearby chart resistance level when going Short.
Set take-profit to the next chart resistance level for Long positions or the next support level for Short entry positions.
If the system generates a chart reversal signal — close the previous position first.
Example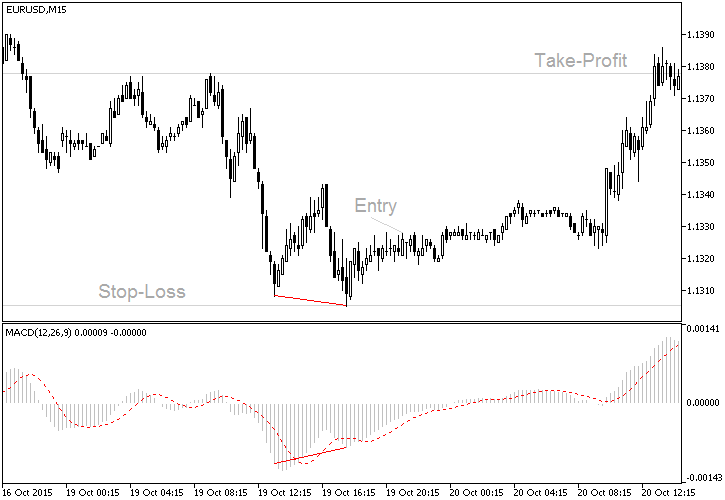 The example mt4 chart is EUR/USD currency pair at the M15 timeframe. As seen on the mt4 chart, the price line was declining in a bearish trend, while the MACD indicator rose in a bullish trend over a long period. The entry point is marked at the chart level, where it's become clear that the downtrend is over on the mt4 currency pair chart. Stop-loss was set to the support level formed by the double-bottom chart pattern while setting the take-profit level to the resistance level created by the bearish trend's short-lived pull-backs. The TP/SL ratio is rather good here — about 1.5.
Warning!
Use this strategy at your own risk. fxcracked.com can't be responsible for any losses associated with using any strategy presented on the site. Using this forex strategy on the real account is not recommended without testing it on the demo first.
Discussion:
Do you have more suggestions or questions regarding this strategy? You can always discuss MACD Divergence Strategy with your fellow Forex traders on the Trading Systems and Strategies forum.