Trend Wave forex indicator MT4 is a custom forex momentum oscillator indicator that generates accurate long/short forex trade entries during trending forex market sessions. Trend waves indicator work based on simple moving averages(SMA) and a combination of prices.
How to use a trend wave forex indicator?
Trend wave catches short-term chart price reversals during the trending forex market in a very accurate manner. The blue color and yellow color dots indicate the crossover of main and entry signal lines in the form of bearish and bullish market trends. These trends help sell and buy.
You can also use the Trend Wave indicator because it can see the market's oversold and overbought levels.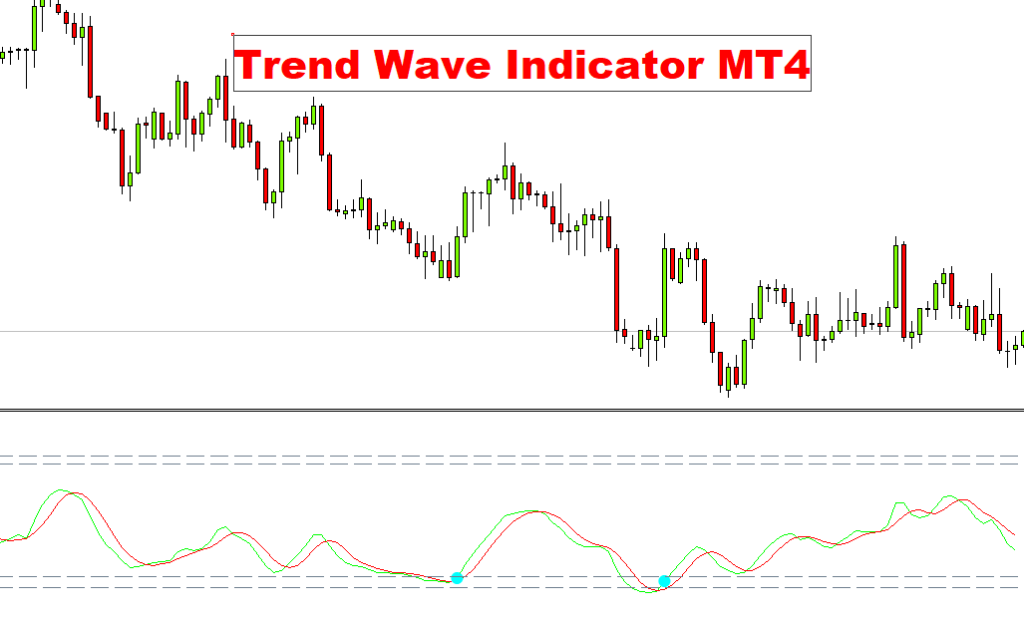 Overbought
The forex market will be overbought when the oscillator indicator exceeds 60.
oversold
When the oscillator indicator drops below the -60 level, it corresponds to a chart oversold level.
Trading Signals of the Trend wave
The Forex Trend Wave Oscillator works when market conditions are oversold or overbought. The indicator displays the information on the mt4 chart in the sub-window in two lines. These two lines have red color and lime color and run across the color dotted marked levels of 50, 60, -50, and -60 to show market buy/sell entry points.
Buy
When the lines are below the -60 chart oversold level, the red line crosses the line bottom-up, and the aqua color dot pops up here; you can start buying.
See also Moving Average Candlesticks Forex Indicator Free Download
Exit buy trade
If a bullish chart trend is running and the lime color line of the forex Trend Wave Oscillator indicator breaks above the +60- chart signal level. Set
initial stop loss(SL) below the previous chart, swing low and close all buy orders.
Sell
The red color line will cross the lime color line top-down when the lines are above the +60 chart oversold level. A yellow color dot pops up, which is best for starting a sell-entry trade.
Exit sell trade
If a bearish chart trend is ongoing, the lime color line of the Trend Wave Oscillator forex indicator breaks below the -60-signal level. Set initial stop loss(SL) above the previous chart swing high and close all sell orders
Also, learn about the Scalping indicator.
Inputs of Trend wave indicator MT4
The input tab shows the standard set of the indicator. You can modify the settings directly from the input tab. Feel free to experiment with the settings and parameters to fit your personal preferences.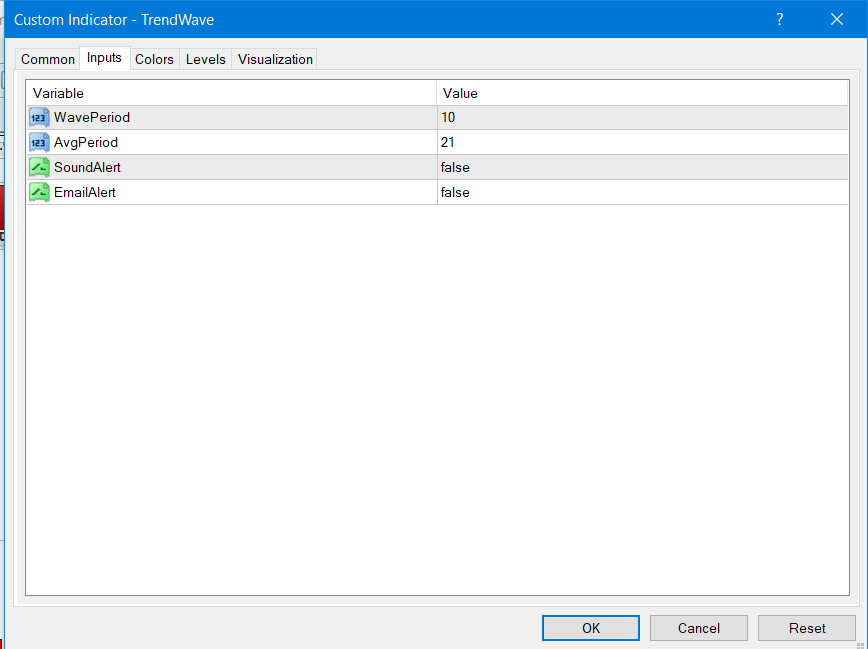 Conclusions
The Trend Wave indicator MT4 is worth adding to your trading to have highly accurate long and short trade entries. It works best in all kinds of timeframes and currency pairs.
Trend Wave Forex Indicator MT4 Free Download