Market sessions forex indicator mt4 displays the different forex trading sessions of all significant exchanges in a vertical color dotted line. Each exchange has its specific colored line. The forex indicator also plots the current and previous forex session's highs and lows. This information is necessary for all forex traders, whether beginners or pros. By keeping an eye on the different market trading sessions, the forex traders can find the best chart time spots during which the market volatility is maximum and enjoy seamless forex trading with very low spreads.
Working of Market Sessions forex indicator MT4:
When applied to mt4 charts, the forex indicator will draw vertical dotted lines with different colors. The indicator will draw the market session's start and end line for each exchange. The colors corresponding to each exchange are in the table below.
Market Sessions indicator MT4 Session Colors
Tokyo Sky Blue
Sydney Plum
London Magenta
New York Gold
Settings of Market Sessions Forex Indicator MT4
In the forex indicator's settings, you can modify the colors and lines for each session. Also, you can modify the forex indicator to either show or hide a specific forex market session. This comes in handy when working 30M or above mt4 timeframes.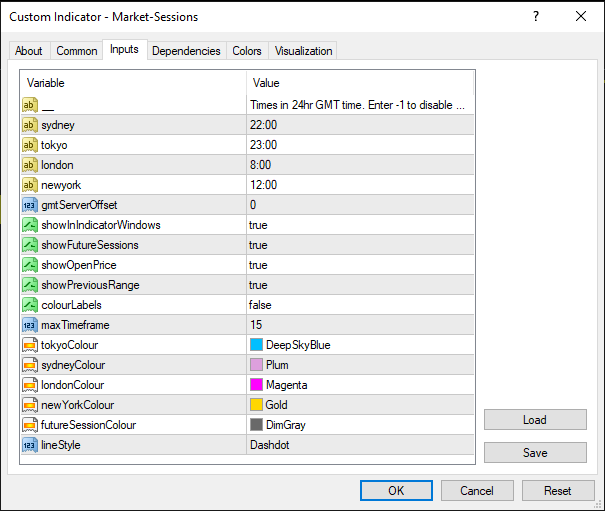 Using the Market Session Forex Indicator MT4
This indicator does not give a buy entry or sell signal since it is only informational. But knowing the start and end of a forex market session is also very critical. Because if you are forex trading in a session with significantly less volatility, you will not fulfill your order immediately, and you will have to wait for some time.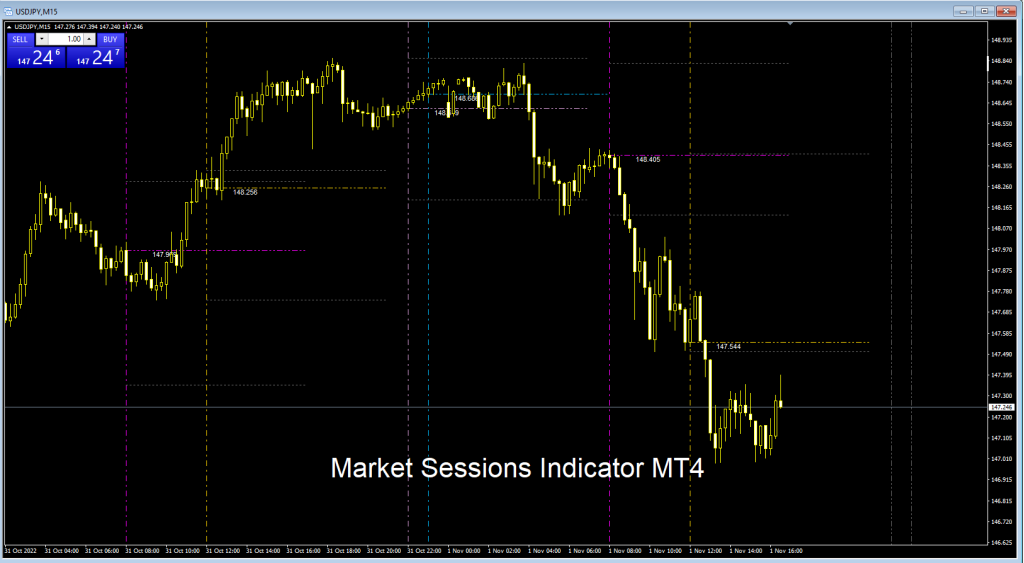 Also, if you are a forex scalper of a day trader, you should look for the chart timeframes where there is session overlap. Because during forex session overlaps, the market volatility is maximum, and many forex traders are placing their trades.
Another advantage of using this indicator is that you can see by comparing the current market highs and lows with previous ones if the market is moving in a bullish or bearish trend.
Conclusion
For every trader, the market sessions are essential; this indicator gives you that information right on the charts. You can use your strategies and analysis to predict if the market will go up or down. To download the indicator for free, Please click on the button below.
Market Sessions Forex indicator MT4 Free Download