Swing Point Highs and Low Indicator mt4 display the high and low points of swings on the charts in small circles. This indicator also shows a moving average line on the chart to help determine the direction of the trend.
Sometimes beginner traders get caught up while reading charts. And they need help to determine the clear swings in the markets. That's where this indicator comes in. It can automatically detect market swings and show the highs and lows on the charts.
Working of Swing Points Highs and Lows Indicator mt4
When we apply the indicator to the charts, the indicator will put three types of circles on the chart at different places. The indicator detects small swings and puts small blue-colored dots at the highs and lows. Also, the indicator shows small swings inside the more significant swing in the form of small blue dots.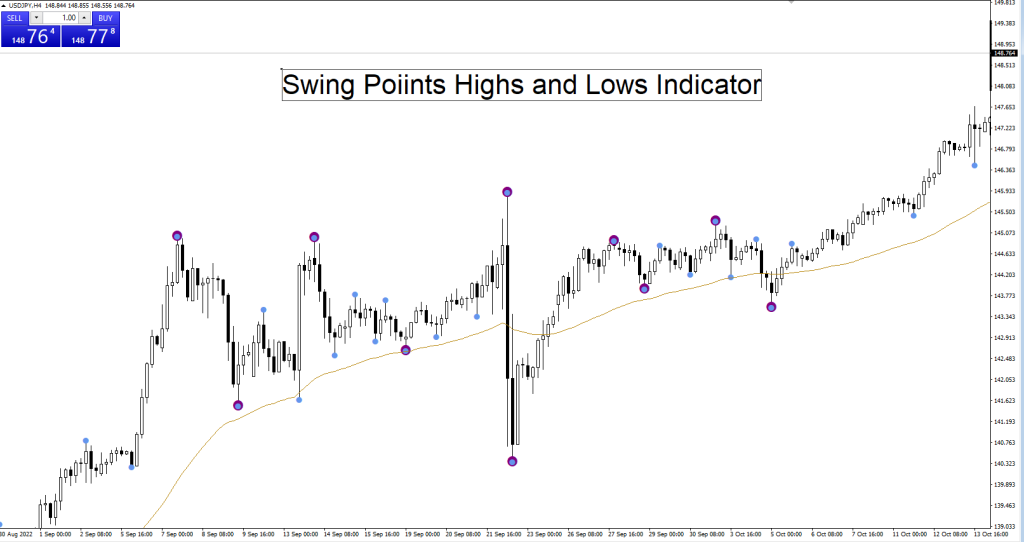 Swing Points Highs and Lows indicator mt4
The best thing about this indicator is it also shows the points where the trend changes from bullish to bearish and bearish to bullish by putting a small circle at a turning point. Using the moving average line, a trader can detect if the market is in a bullish or bearish direction.
See also Parabolic SAR Forex Trading Strategy
Settings for Swing Highs Lows and Lows Indicator mt4
In this indicator setting, traders can change the major and minor swing sizes along with the colors of the circles representing the swing.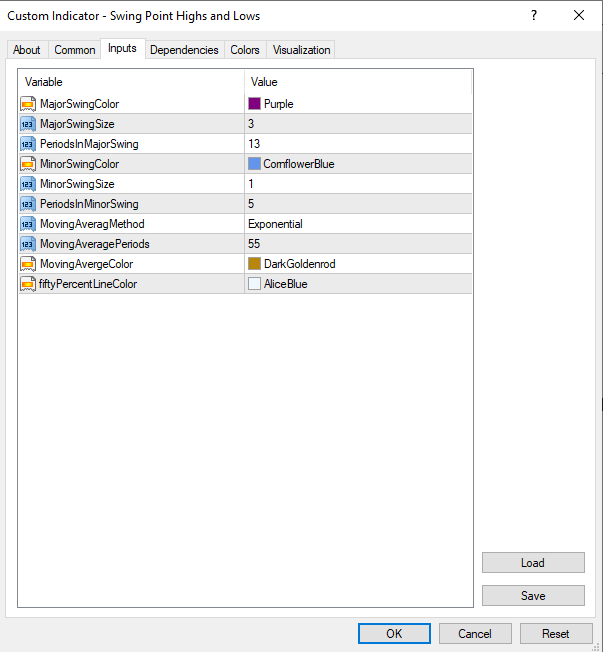 Swing Points Highs and Lows indicator mt4 settings
Trading strategy for Swing highs and lows indicator
The trading strategy for this indicator is straightforward. You must open a long position when the indicator shows a low swing point and close the swing high. The stop loss for long entries will be at the most recent swing low.
To go short, you should look for the indicator to show the trend reversal from bullish to bearish, and the next circle, where the market changes its direction from bearish to bullish, will take the profit level.
Conclusion
The high lows indicator for mt4 is a beneficial tool for traders, especially beginners, because it can help them understand how to make swing highs and lows and how to trade the swing highs and lows at trend reversals.
Swing Points Highs and Lows Forex Indicator for MT4 Free Download