The Parabolic SAR Forex strategy — is a somewhat risky system based on direct entry signals of the Parabolic SAR forex indicator, which shows stop and reverse levels.
Parabolic SAR Forex Trading Strategy Features
Simple to follow.

Used Only one standard indicator.

Entry and exit rules are given directly by the forex indicator.

Indicator lag.

Somewhat risky and not consistently effective.
Strategy Set-Up
Any mt4 currency pair and timeframe should work.
Add a Parabolic SAR forex indicator to the chart, and set its Step to 0.05 and Maximum to 0.2.
Entry Conditions
Enter the Long entry position when the current price touches the indicator from below and changes its direction.
Enter the Short position when the current chart price touches the forex indicator from above, and it changes its direction.
Exit Conditions
Set stop-loss(SL) directly at the indicator's latest level — above the chart price for Short entry positions and below the price for Long positions. Adjust stop-loss(SL) with each new bar.
Take-profit(TP) should be set to the same value as stop-loss(SL), but you should not adjust it. For example, if your Short entry trade entry level is 1.1030 and stop-loss is set to 1.1050 (20 pips), you should set your take-profit level to 1.1010 (same 20 pips).
Example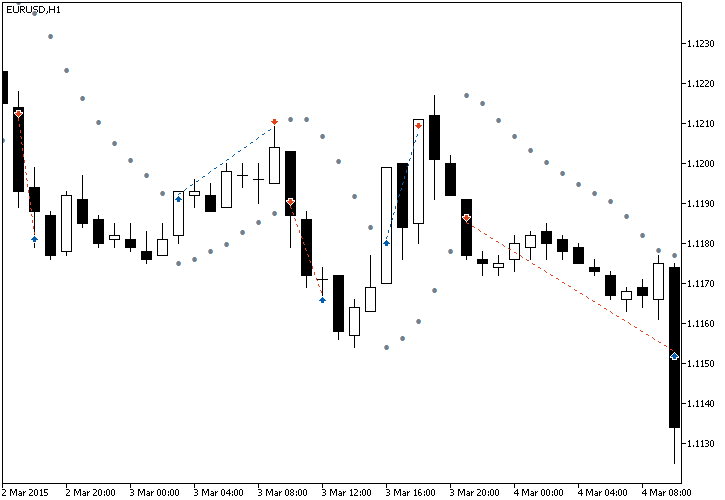 As you can see on the example mt4 chart above, there are five entry and exit points:
The first one is bearish and goes to a take-profit(TP).
The second one is long and is also closed by TP.
The next one is bearish again and reaches TP relatively fast.
Bullish trade that goes its target in just two candles.
Another short entry trade, slowly proceeding down to its take-profit level.
Judging from the above, it is easy to conclude that short and long positions follow one after another in this forex strategy. You can also see that although take-profit(TP) helps to keep many of the trades in the green, it also prevents those trades from reaching their full potential.
Warning!
Use this strategy at your own risk. fxcraked.com cannot be responsible for any losses associated with using any strategy presented on the site. Using this strategy on the real account is not recommended without testing it on the demo first.
Discussion
Do you have any more suggestions or questions regarding this strategy? You can always discuss Parabolic SAR Strategy with your fellow Forex traders on the Trading Systems and Strategies forum.