Moving Average(MA) Cross Forex trading strategy — is a straightforward strategy based on the cross of the two standard forex indicators — the fast exponential moving average(EMA) and the slow EMA. You can also download and use our free Adjustable Moving Average expert advisor to trade this strategy automatically on the MetaTrader platform.
Moving Average Cross Forex Trading Strategy Features
A straightforward strategy to follow.

Used simple indicators.

It's easy to set stop-loss.

Moving averages are laggy — they can lag up to 10 bars.

Ineffective during the flat forex markets.
Strategy Set-Up
Any mt4 currency pair and any timeframe should work.
Add an exponential moving average(EMA) to the chart, set its period to 9, apply it to Close, and set the color to red (optional) — this is your fast-moving average (FMA).
Add another exponential moving average(EMA) to the chart, set its period to 14, apply to Close, and set the color to blue (optional) — this is your slow-moving average (SMA).
Entry Conditions
Enter the Long position when FMA crosses SMA from below.
Enter the Short position when FMA crosses over SMA from above.
Exit Conditions
Stop-loss(SL) for Long positions should be set to the Low of the last candle before the cross occurs. Short positions — to the High of the previous candle before the cross.
Take-profit should depend on the stop-loss and should be no less than stop-loss. I recommend setting TP to 1.5 * SL or 2 * SL.
Close the position if another cross appears before the stop-loss or take-profit is triggered.
Example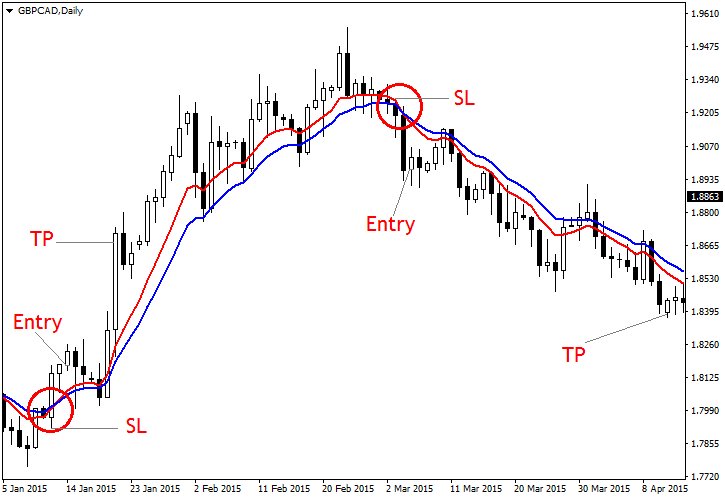 As seen in the example chart, entry conditions are pretty straightforward, and with the proper TP/SL ratio, this strategy can be profitable.
Warning!
Use this forex strategy at your own risk. fxcracked.com can't be responsible for any losses associated with using any forex strategy presented on the site. Using this forex strategy on the real account is not recommended without testing it on the demo first.
Discussion:
Do you have anymore suggestions or questions regarding this strategy? You can always discuss the Moving Average Cross Strategy with your fellow Forex traders on the Trading Systems and Strategies forum.