The Renko charts forex indicator MT4 informs the fx trader how much the market has moved and how far it has changed, based on the forex trader's settings for the Renko charts forex indicator. This indicator is handy for forex traders who are just beginning their journey.
How does Renko chart forex Indicator work?
Renko Charts forex indicator for MT4 takes the data for price and produces Renko bricks. As a result, it offers a quiet forex trading chart compared with a chart candlestick or bar chart. Renko charts show clear patterns and precise chart support and resistance levels. Therefore, traders will get effective results when employing any trading strategy that relies on market trends and follow them for so long as the chart direction is tricky.
This forex indicator is ideal for advanced and new traders. The new traders can visualize what is happening in the BULLISH and BEARISH  forex market trends and then place their BUY entry and SELL orders in line with the movement. Additionally, advanced forex traders can utilize technical forex indicators to trade effectively. The forex indicator is compatible with all intraday timeframes and daily, weekly, and monthly charting.

Trading with Forex Renko Charts
The above EURUSD H4 mt4 chart shows the Renko Charts forex Indicator MT4 in motion. The forex indicator shows the BULLISH bricks in BLUE and the BEARISH bricks in RED. A New Renko brick appears when the price changes the specified pip value entered in the forex indicator's settings. The forex indicator positions its new Renko brick at 45 degrees, angled either way from the brick before it.
Trends by Renko forex indicator
Renko forex charts generally display precise trend direction and chart support and resistance levels that are often difficult to understand in an mt4 candlestick chart or bar chart. Therefore, traders typically trade Renko forex charts by employing any trading strategy incorporating the levels of resistance, support, and trend direction.
See also MIEA 9 Multi-Currency Robot FREE Download.
Reno Bricks
The shift from a BEARISH to a BULLISH forex market is due to Renko bricks' change between RED color and BLUE.
Buying and Selling
Forex traders can place a BUY entry trade with a stop loss(SL) below the prior low. Most forex traders take advantage of trends and then hold their position until they see a change in the forex market direction. However, the appearance of RED color bricks triggers a sell entry signal and signals an opportunity to enter a trade.
A market prone to ranging colors of Renko bricks is constantly changing and can cause whipsaws. Therefore, forex traders can use one, two, or three consecutive bricks to verify a BULLISH or BEARISH market trend shift and then place the BUY entry OR SELL order in line with the trend.
Many forex indicators used on bar or candlestick charts can differ from the Renko charts since they need more time. Therefore, forex traders must try and test the use of a different forex trading strategy.
Inputs of Renko Charts Indicator MT4
The following table shows the input parameters of the forex Renko Charts. Feel free to try the settings for better results.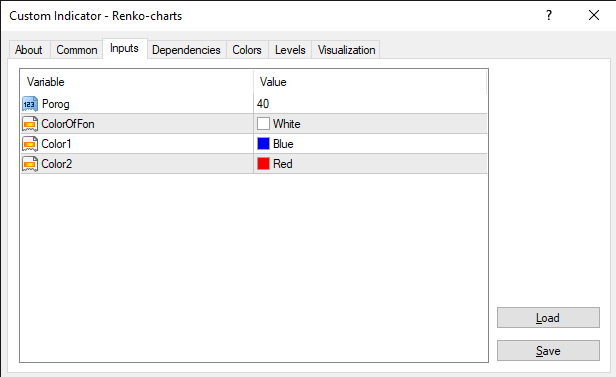 Conclusions
This Renko charts forex indicator MT4 doesn't consider the time factor similarly. As a result, the HIGH and LOW in the mt4 timeframe are not visible. Therefore, it can hide information required for specific technical fx trading strategies. However, they are also used and followed by many forex trend traders.
Renko Charts Forex Indicator MT4 Free Download