The BOW V2.0 Forex Indicator System uses an innovative formula based on calculations to provide sell/buy arrow signals for entry points that do not repaint. That forex strategy works best during the sideways market and gives false signals during strong market trends. We suggest using it with a filter to verify the entry signals.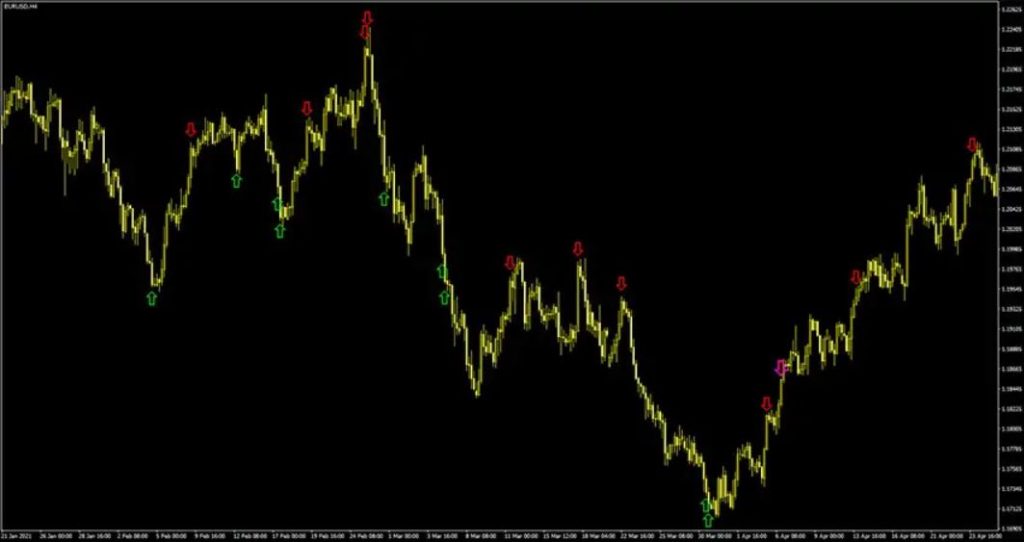 The BOW V2.0 Forex Indicator System fits all timeframes and mt4 currency pairs. It is shown directly on the main forex trading chart and in a window below it. The main default settings can be modified directly from the input tab. Feel free to test the settings and parameters to fit your preferences.
Set up the BOW V2.0 Forex Indicator System in MT4.
Installation Guide
Download the BOW V2.0 Forex Indicator System.zip archive at the bottom of this post, unzip it, then copy and paste the indicators files of the BOW V2.0 Forex System into the MQL4 Data folder of the MetaTrader 4 trading platform.
You can open this data folder by clicking the menu options, which goes as follows:
File > Open Data Folder > MQL4 > Indicators (paste here).
Furthermore, to run the BOW V2.0 Forex Indicator System, you must copy the given template file into the mt4 templates folder. To proceed, right-click on an mt4 chart, then Template > Open Templates, and copy the BOW V2.0 Forex System.tpl file into that folder. Next, select the file and click Open to load the system on your chart.
Read More DeltaForce Free Forex Indicator For Better Trading
Bottom Line
The BOW V2.0 Forex Indicator System is worth adding to your trading collection. A good forex strategy will enhance your chance of success. Nonetheless, remember to have realistic expectations. Like any other technical analysis tool, is not capable of providing accurate entry signals 100% of the time. Thus, this forex trading indicator system provides false signals occasionally. Its results will change significantly depending on forex market conditions.
Download Free MT4 BOW V2.0 Forex Indicator System