This pin bar forex indicator mt4 is one of the best free pin bar indicators that We've found, and the download button is on the very bottom of this post.
If you are a new forex trader, trying to identify candlestick patterns like forex reversal candlestick patterns and even pin bars can be difficult at first, so indicators like this pin bar detector are handy tools to use.
How This MT4 Pin Bar Forex Indicator Works
When you've downloaded this forex pin bar indicator and uploaded it onto your chart, it will look cool something like this on this chart below: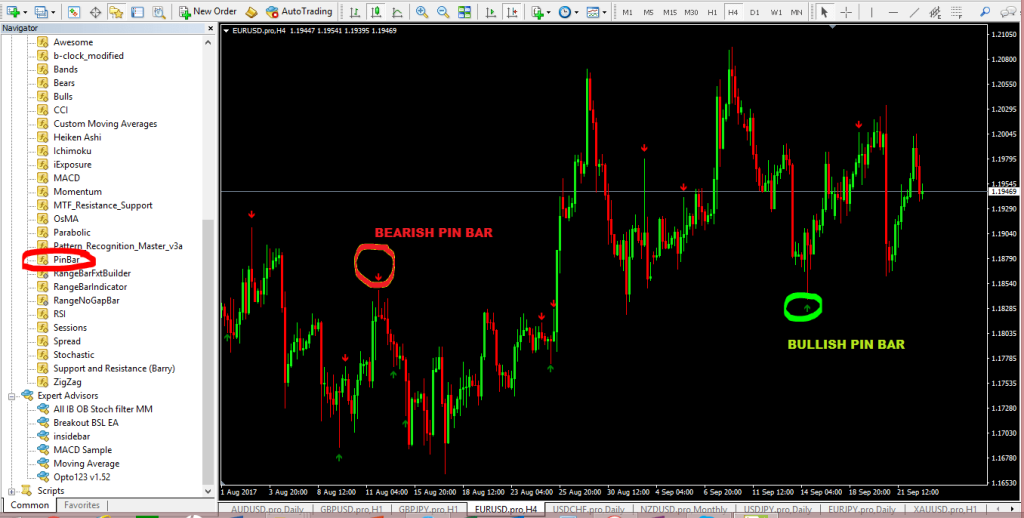 You will see two types of arrows: red arrows pointing down and green arrows pointing up. The chart red arrows indicate bearish bin bars, and the chart green arrows indicate bullish pin bars.
Pin bars can form anywhere on any mt4 chart, from the 1-minute timeframe to the monthly chart, and if your mt4 trade entries are based on candlestick patterns, this indicator may be helpful. Below, We've listed the forex trading strategies on our forex trading site, where you can use this pin bar forex indicator.
Strategies Where The Pin Bar Forex Indicator Can Be Used
The pin bar forex indicator can be applied to the following strategies for buy and sell signal:
Pin Bar Indicator MT4 Download Link
If you may be interested, check out my free forex trading signals. (Click that link) And you can apply this pin bar indicator to these free forex signals.