As the name says, the piercing line pattern forex trading strategy is based on the bullish piercing line pattern, a two candlestick pattern.
the right way to trade a piercing line pattern is to wait for the pattern to form at levels like:
support levels
resistance-turned-support levels
Fibonacci retracement levels that provide support
Rising trendline touches/bounces.
Piercing Line Pattern
What is a piercing line chart pattern?
it is a bullish pattern
the first candlestick is a bearish chart candlestick followed by a bullish chart candlestick which closes over than 50% of candlestick 1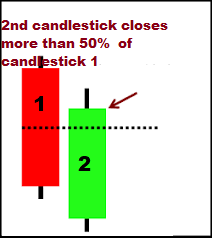 Strategy Trading Requirements
Currency pairs: Any
Timeframe: 5 min and above
Forex Indicators: none 
Buying Rules
Before you look for a piercing line chart pattern, you need to identify levels on your charts where the price can find support and bounce up.
And then wait for the price to come down and reach those levels and then look for a piercing line pattern to buy.
Here are the buying rules:
Place a buy stop order 1-2 pips over the high of the 2nd candlestick.
place stop loss 2-10 pips below the low of the 2nd candlestick
take profit: aim for previous swing highs or use risk: reward of 1:3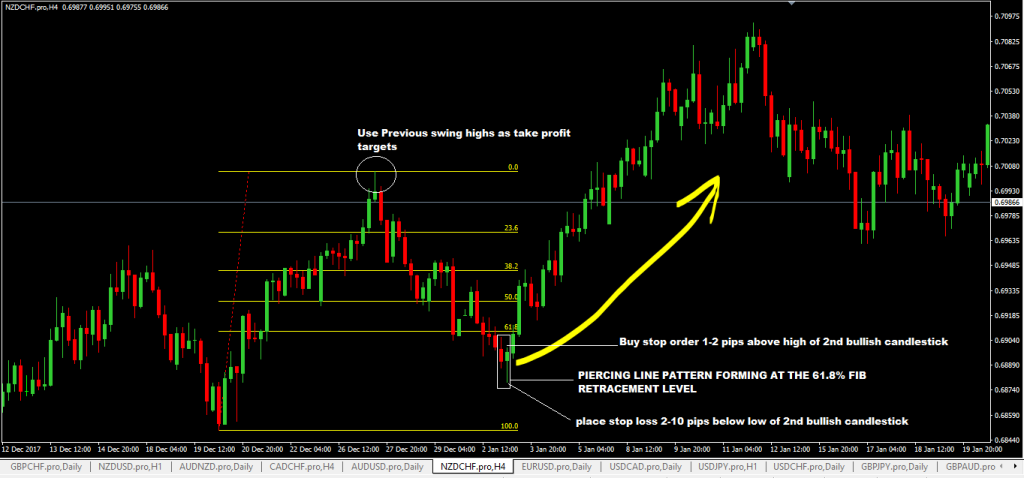 Advantages
a straightforward pattern to trade
simple trading rules
potential for 100 pips plus in profit per trade if you trade larger timeframes like the 4hr and the daily
Use this pattern with other confluence factors like support levels, trendlines, Fibonacci retracement levels for more justification for placing your trade.
You can even use this method as a scalping system.
Disadvantages
Not all piercing line patterns that form on your chart are tradeable. You need only pick the best trading setups. As mentioned above, the best trading setups happen around price levels where you think the price will bounce up based on several reasons based on your technical analysis.
Read More: Best Forex Support And Resistance Indicator MT4 Free Download