Forex Hacked Pro MT4 Robot is an expert advisor built for the Metatrader4 platform only. The goal when developing Forex Hacked was to form it as simple as possible to form money. When you plug it in, you're not going to have a hundred settings to go over and change/optimize(you can change the input parameters and optimize the EA).
Forex Hacked Pro EA is an automated forex robot work using a combination of martingale and hedging. Because of this method, this EA has a very high ROI(Return of investment) with relatively good stability. According to the developers, this automated trading system is able to perform miracles.
Please test in a demo account first for at least a week. Also, Make yourself familiar with and understand how MT4 Robot works, then only use it in a real account.
The strategy With this EA is to profit fast then withdraw fast. Of course, this is a grail, and with such a risk, the adviser can someday drain the deposit. But the main rule is to withdraw the deposit after doubling the deposit.
It's a double-edged sword, so use it smart.
Recommendations for this MT4 Robot
Minimum Account balance of 100$(High risk), 500$(Medium risk), 1000$(Low risk). This is a martingale EA so take these risk numbers with a grain of salt

Recommend adapting your own risk level and deposit since EA can double 100$ Account in 2 days with a chance to blow the account too. (But it can be mostly avoided if you can turn off the EA and close all trades on

volatile markets or News

) .

Work Best on EURUSD, GBPUSD, EURCHF, USDCHF, EURJPY, USDJPY, EURGBP, AUDUSD, and USDCAD(Work on any currency pair)

.set files are included for all best currency pairs

Work best on H1, M15 (Work on any time frame)
The strategy With this EA is to profit fast and then withdraw fast. Withdraw the deposit after doubling the deposit. (This EA has real good potential with this method)
This EA isn't all plug and play and watch, 

You may need to look out for volatile markets (News) and close trades.

For best performance Highly Recommend running Forex Hacked Pro MT4 Robot 24/5, Recommend using a VPS (Reliable and Trusted FOREX VPS – FXVM)
Low Spread ECN account is also recommended (Find the Perfect Broker For You Here)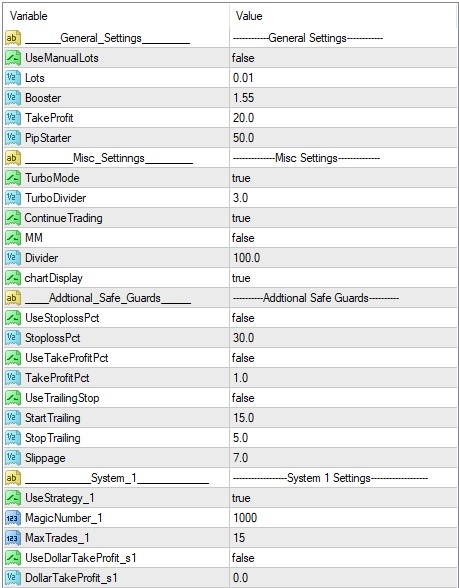 UseManualLots – if you will use the initial lot (Lots) more than 0.01, you should set the value to TRUE
Lots – an initial lot, default is 0.01
Booster – lot increase ratio for the order grid
TakeProfit – take profit in pips
PipStarter – the distance between orders in the grid
turbo mode – an option to increase profitability in flat
TurboDivider – the number of orders in the grid, after which TurboMode is turned on
ContinueTrading – option to stop working after closing current orders. With TRUE, the usual trading mode, with FALSE, after closing the current grid with orders, the new one will not be built.
MM – Money management system, a risk management system by automatically increasing the lot when the balance changes. It is calculated as Lots = 0.00001 * (AccountBalance / Divider). Disabled by default.
Divider – parameter for calculating Money management, examples of calculating lots:

$ 100,000 – Divider 100 = 0.01 lots

$ 100,000 – Divider 10 = 0.1 lots
$ 200,000 – Divider 100 = 0.02 lots
$ 200,000 – Divider 10 = 0.2 lots
$ 10,000 – Divider 100 = 0.001 lots
$ 10,000 – Divider 10 = 0.01 lots
$ 10,000 – Divider 1 = 0.1 lots
$ 20,000 – Divider 100 = 0.002 lots
$ 20,000 – Divider 10 = 0.02 lots
$ 20,000 – Divider 1 = 0.1 lots
$ 5,000 – Divider 10 = 0.005 lots
$ 5,000 – Divider 1 = 0.05 lots
$ 5,000 – Divider 0.5 = 0.1 lots
UseStopLossPct   – enable StopLossPct option
StopLossPct – drawdown size as a percentage of the balance at which all transactions will be forced closed. This parameter is used as an emergency protection against a full drain of the deposit with very strong trends.
UseTakeProfitPCT – enable TakeProfitPCT option
TakeProfitPCT – profit margin as a percentage of the balance at which all transactions will be forced closed.
UseTrailingStop – enable trailing option
StartTrailing – number of pips to enable trailing
StopTrailing – size of the trailing stop in pips
UseStrategy_1 – option to use the 1st strategy
MagicNumber_1 – magic for orders of the 1st strategy
MaxTrades_1 – maximum number of orders for the 1st strategy
UseDollarTakeProfit_s1 – enable the DollarTakeProfit_s1 option
DollarTakeProfit_s1 – profit size in the deposit currency at which orders will be closed according to the 1st strategy
system1_comment – comment on transactions on the 1st strategy