TOP Ultimate Breakout Indicator is an easy-to-use breakout indicator system . It is a professionally written winning trading system that uses a proven, profitable trading strategy, that has all of the bugs ironed out, which will show you consistently profitable trades in every single time frame.
The TOP Ultimate Breakout strategy makes it easy to spot real-time Buy and Sell breakout signals in any market you trade right in your charting window. With clearly defined breakout entry and profit target exit levels, there's no confusion about where to enter or exit your trades.
TOP Ultimate Breakout Indicator system can give you trading signals you can take as they are or add your additional chart analysis to filter the signals further, which is recommended. While traders of all experience levels can use this system, it can be beneficial to practice trading on an MT4 demo account until you become consistent and confident enough to go live.
You can set the TOP Ultimate Breakout strategy to send you a signal alert. This is helpful as it means you do not need to stare at the charts all day waiting for signals to appear, and you can monitor multiple charts all at once.
TOP Ultimate Breakout System can be used on any Forex currency pair and other assets such as stocks, commodities, cryptos, precious metals, oil, gas, etc. You can also use it on any time frame that suits you best.
How to Use & Strategy (Important)
The labels displayed on the chart below highlight the breakout and profit target lines within the TOP Ultimate Breakout strategy. Trading the TOP Ultimate Breakout is easy! Here is how it works.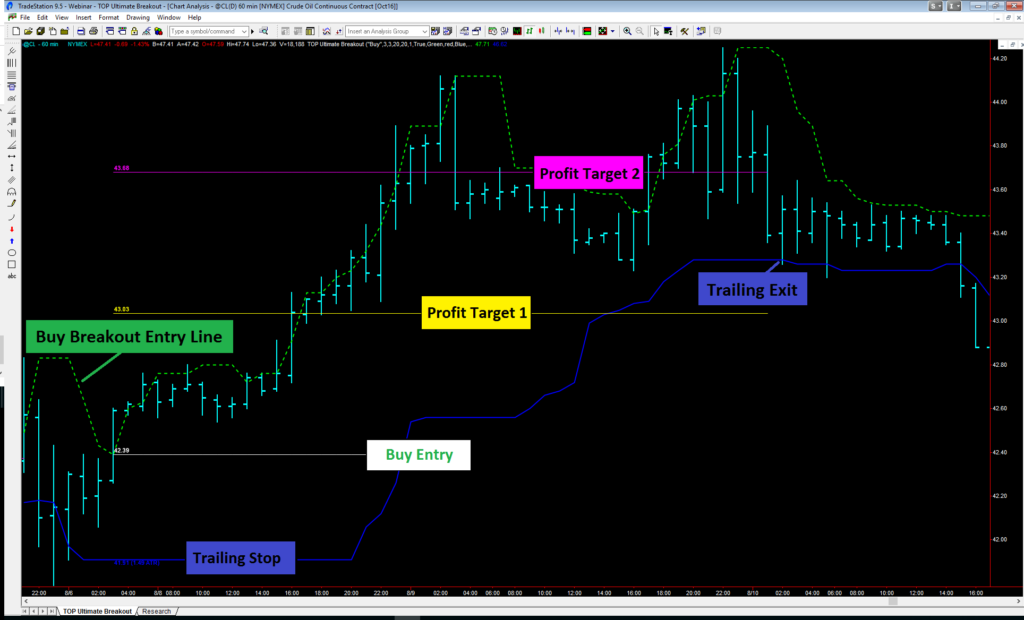 If you identify a bullish/Buy trade setup and are looking to buy in a market, you would place your Buy Entry Stop at the level of the Green Line (Red line for bear/Sell trade setup) in the chart below.
Once the trade is opened in the market after your Buy Entry Stop is hit, then the TOP Ultimate Breakout trade lines are displayed to make it easy for you to either exit at Profit Targets or exit at your Trailing Stop line:
White Line is displayed at Buy or Sell Entry Level
Yellow Line is displayed at Profit Target 1
Magenta Line is displayed at Profit Target 2
Solid Blue Line is displayed at Trailing Risk Stop Level
When this level has been hit by your market, then the TOP Ultimate Breakout strategy will display your Breakout Trading Lines, which include your Entry Line (White), Profit Target 1 line (Yellow), and Profit Target 2 line (Magenta Line).
Some trading strategies require you to learn complex parameter settings before you can effectively use the trading strategy.  Not with TOP Ultimate Breakout.  We have designed the TOP Ultimate Breakout to include key parameters to give you the power and flexibility to modify the entry and exit lookback periods, modify profit target levels, select line colors, and even turn off breakout entry and profit target lines if you so desire.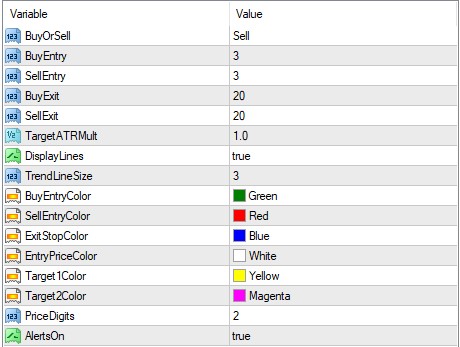 Buy or Sell – Set the TOP Ultimate Breakout to Buy Mode or Sell Mode by entering the following:
Buy – Sets Ultimate Breakout to Buy Mode
Sell– Sets Ultimate Breakout to Sell Mode
Or you can use in chart Buy/Sell button to instantly change between buy-sell mode.
BuyEntry (Buy Mode Only) – This sets the lookback period for your Buy Breakout Entry Signal. If this value is set to 1, then the TOP Ultimate Breakout would enter a Buy or Long position when the market breaks above the high of the previous price bar. If this value is set to 5, then the TOP Ultimate Breakout would enter a Buy or Long position when the market breaks above the highest high of the previous 5 price bars.

Recommended Default: 3
Recommended Range: 1 – 5

SellEntry (Sell Mode Only) – This sets the lookback period for your Sell Breakout Entry Signal. If this value is set to 1, then the TOP Ultimate Breakout would enter a Sell or Short position when the market breaks below the low of the previous price bar. If this value is set to 5, then the TOP Ultimate Breakout would enter a Sell or Short position when the market breaks below the lowest low for the previous 5 price bars.

Recommended Default: 3
Recommended Range: 1 – 5

BuyExit (Buy Mode Only) – This sets the lookback period for your Buy Trailing Stop Exit. This works similarly to the SellEntry setting in that it references previous bar lows, but it uses a slightly different algorithm designed specifically for the Trailing Stop.

Recommended Default: 20
Recommended Range: 5 – 100

SellExit (Sell Mode Only) – This sets the lookback period for your Sell Trailing Stop Exit. This works similarly to the BuyEntry setting in that it references previous bar highs, but it uses a slightly different algorithm designed specifically for the Trailing Stop.

Recommended Default: 20
Recommended Range: 5 – 100

TargetATRMult – This sets the distance between your breakout entry signal and your Profit Targets. The larger the number, the further away your Profit Targets will be from your entry signal line.

Recommended Default: 1
Recommended Range: 0.5 – 3

DisplayLines – Set this to True to display the Entry and Profit Target Lines or False to not display these lines.

Recommended Default: True

BuyEntryColor – Sets the color of the Buy Entry Dashed Line. Set this to any platform color. (Default Green)
SellEntryColor – Sets the color of the Sell Entry Dashed Line. Set this to any platform color. (Default Red)
ExitStopColor – Sets the color of the Trailing Stop Line. Set this to any platform color. (Default Blue)
Target1Color – Sets the color of the Profit Target #1 Line. Set this to any platform color. (Default Yellow)
Target2Color – Sets the color of the Profit Target #2 Line. Set this to any platform color. (Default Magenta)
EntryPriceColor – Sets the color of the Entry Price Line. Set this to any platform color. (Default White)
Price Digits – Sets the significant digits for the prices displayed next to your lines. (Stocks Default: 2, FOREX Default: 4)
Click HERE to Download TOP Ultimate Breakout