Gann Square 9 forex indicator MT4 Plots future resistance and support using GANN and Zigzag. This indicator forecasts future market currency moves through the use of angles.
What is Gann Forex Indicator?
Gann forex indicator works based on Gann angles which are forex trading techniques developed by W.D. Gann. He used angles and geometric constructions to divide chart time and price into proportionate parts.
Gann angle
It is a diagonal line that moves at a uniform rate of speed. A chart trendline is created by connecting bottoms to bottoms in the case of a market uptrend and tops to tops in the case of a market downtrend.
Gann Fan
Gann forex indicators are based on the notion that markets rotate from angle to angle, and when an angle is broken, the chart price moves toward the next one. Several angles together make up a Gann Fan.
Gann square 9 forex indicator
Gann square 9 forex indicator MT4 draws chart supports and resistance lines along with the price charts. Additionally, the forex indicator employs the traditional Zigzag MetaTrader indicator to identify the changes in trend.
When the Zigzag indicator confirms that the trend has changed, the forex indicator uses its Gann Sq 9 angle to sketch potential future market trends. These lines function as future chart resistance and support in either the Bearish or Bullish direction of the trend. Therefore, traders who employ forex trend-following strategies can utilize this forex indicator to find the most profitable SELL and BUY entry points and potential future Reversal points.
See also Super Signals Channel Scalping System FREE Download
Why is Gann square 9 indicators MT4 best for new traders?
The forex indicator uses price levels to determine the levels of chart support and resistance in the future, and, therefore, the same chart levels will show up across every mt4 price chart. Thus, traders can utilize the forex indicator and watch chart price movements in the lower time frame close to the support and resistance levels to find the best entry locations.
This forex indicator is ideal for experienced and new traders. Forex traders who are new to the forex market can utilize the concept of GANN to get the subsequent chart support and resistance levels and move stop losses(SL) to a current position. Additionally, the groups assist forex traders in identifying the Stop-loss and take-profit levels.
Gann square forex indicator trading setup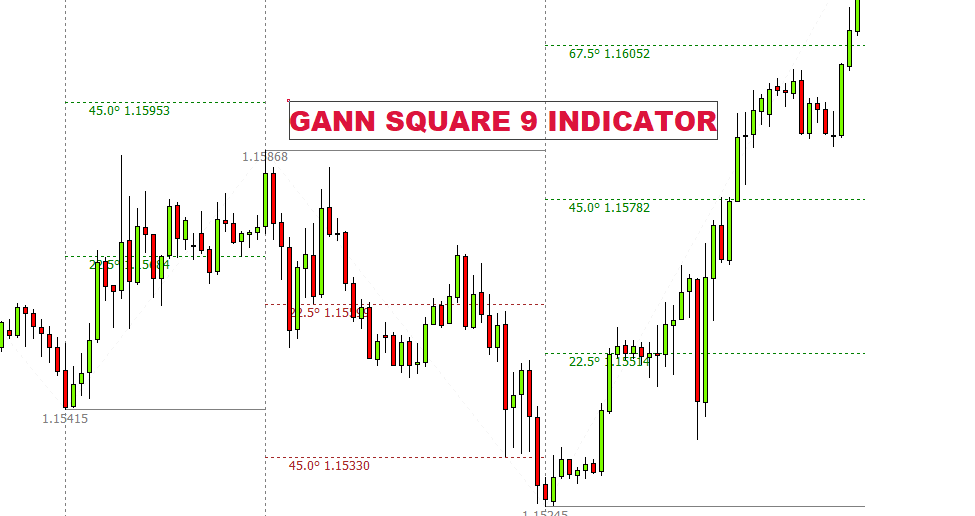 The above EURUSD H1 mt4 chart shows the Gann Sq 9 forex indicator. The hand draws the chart support levels in Green and resistance levels in Red on the price chart. Black lines show the direction of the market trend. Moreover, it plots Level 0 as Gray color and indicates the beginning of the trend.
Gann square 9 forex indicator MT4 inputs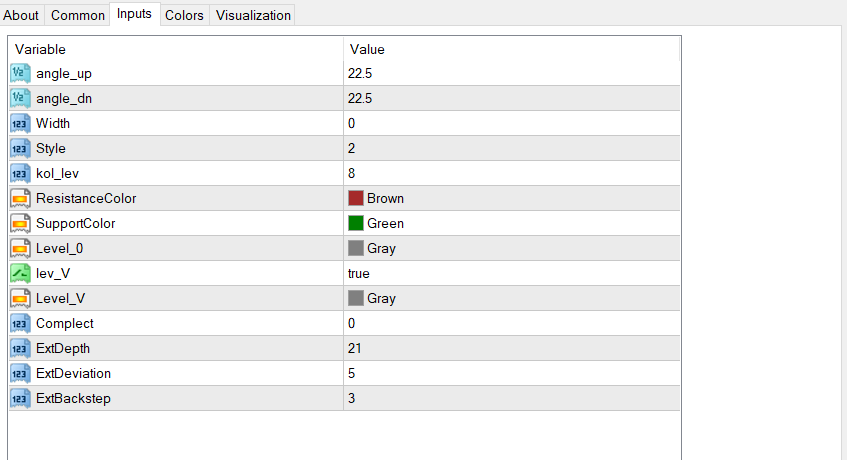 Conclusion
Gann forex indicators are popular market analysis and trading tools used to measure elements, such as chart patterns, price, and time. Moreover, the forex indicator is best suited for trend-following forex trading strategies.
Gann square 9 Forex Indicator MT4 Free Download