The Currency Strength Meter mt5 indicator shows which currencies are trading STRONG against the WEAK currencies!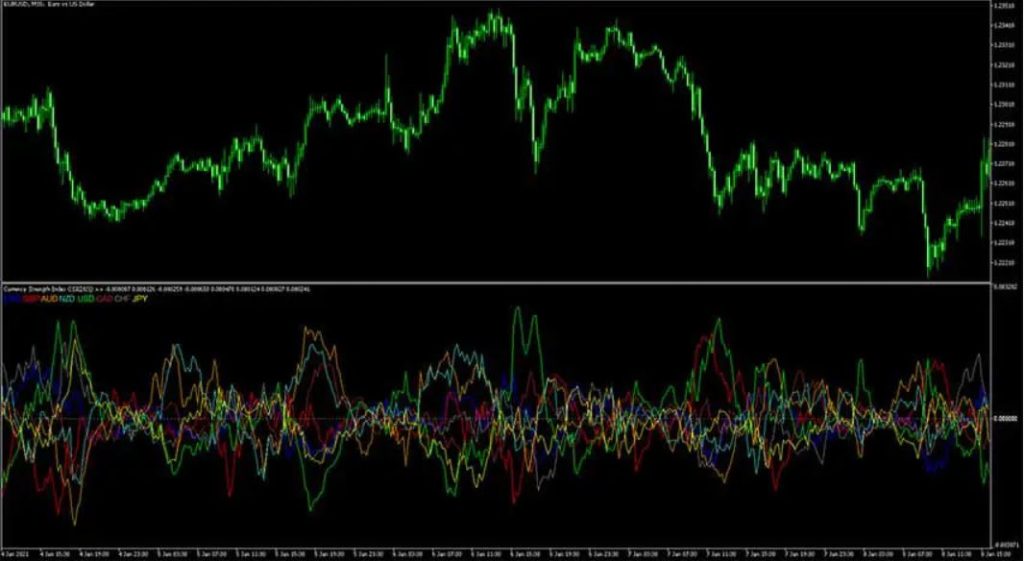 The indicator is displayed in a separate window placed just below the main trading chart, and it provides the strong momentum of the eight major currencies:
EUR
AUD
GBP
NZD
CHF
CAD
JPY
The mt5 indicator is based on the mathematical decorrelation of 28 cross-currency pairs.
It uses the percentage difference in Linear weighted averaging (LWMA) of the closing prices.
The default mt5 indicator settings can be changed directly from the input tab. Feel free to try the indicator settings and parameters to fit your preferences.
How to use it in trading?
Currencies significantly sloping away from each other are candidates for trend trading.
Currencies that run parallel to each other range and can trade from the top of an indicator band or channel to the bottom with confidence.
Using the mt5 indicator in multiple chart timeframes is an excellent way to see whether a currency rises or falls across several timeframes, adding a further dimension to your analysis. In addition, it allows you to quantify the risk of any trade-in more detailedly.
How to set up the Currency Strength Meter indicator in MT5?
Installation Guide
Copy and paste the CURRENCY_STRENGTH_INDEX.mq5 or CURRENCY_STRENGTH_INDEX.ex5 indicator files into the MQL5 folder of the MetaTrader 5 trading platform.
You can gain access to this folder by clicking the top menu options, which goes as follows:
File > Open Data Folder > MQL5 > Indicators (paste here).
Now go to the left side of your MT5 terminal. In the Navigator, find the gauge name, right-click it, and select Attach to the chart.
Read More Martingale EA With source code FREE Download
Currency Strength Meter MT5 Forex Indicator Free Download