Auto Trade Fusion is a free indicator. It is one of the best indicators a trader should have if you are looking for an indicator. The indicator is designed to simplify decisions on whether to trade and where to place your stops. It almost acts as a robot, the only difference being that this indicator doesn't put the order despite giving you the entry signal to place the market orders.
Auto Trade Fusion forex indicator indicates a lot of crucial information for the forex trader. It tells the forex traders when to place an order, the level at which to place the order, and the place level at which your stops should be. It displays the information in a very easy-to-understand manner so that even a forex beginner can use the forex indicator.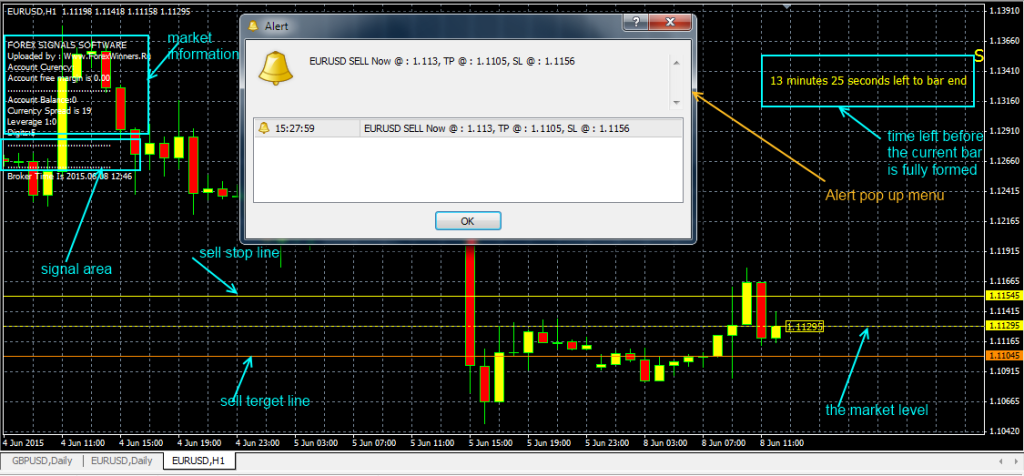 Fig. a display of the forex Auto Trade Fusion indicator signals.
Looking at the above image, you can see what the Auto Trade Fusion indicator displays. Starting from the top left corner, that is the market information. The said market information includes account currency (the currency you use for your account; e.g., you might have 2000 US Dollars), account balance, account free margin, currency spread, leverage, and digits.
Below the market information, another space is placed between two dotted white color lines. This is the put at which the order entry is indicated. It shows at what level (market price) to put the order, what type of order, the target level (take profit; e.g., @1.1104), and the stop level (stop loss; e.g., @1.1154). If the Auto Trade Fusion forex indicator detects no indication for any entry signal, this area will be blank as per the image above. If this area is empty, then the forex trader should not place an order; he should instead scroll through the timeframes to see if there is anywhere the indicator has an entry signal. If none, then the forex trader should look for another mt4 currency pair or wait for an entry signal on the same mt4 currency pair.
If you look at the chart top right corner, you will realize that some time is displayed there. This is the duration that the current chart candle will take for completion so that another chart candle can be formed. You should wait for the next chart candle to create when a signal appears and then open your position. Therefore, you have to see at this time.
Apart from just giving you an entry signal, the indicator also draws the line at the various concerning levels (entry point, stop level, target level/ take profit). The entry-level is also indicated by the market price being enclosed in a box just at the entry-level line. Also, if you are not near or are not concentrating on the market, there is an alert sound and pop-up box designed to alert you.
Read More: Virtual Trade Monitor v2.1 Forex Indicator Free Download
Auto Trade Fusion Forex Indicator Free Download