Velocity EA is a fully automated Expert Advisor FREE to Download. It works based on a Professional Spike/Impulse Scalping Algorithm used by Big Bank Traders, Hedge Funds, and Professional Traders. When price moves to a short-term extreme, velocity strikes, jumping in and out of the market for a few pips at a time.
Small stop loss and advanced break even plus trailing stop loss keep your trading capital safe while providing the highest potential for profit accumulation.
Key Advantages of Velocity Expert Advisor
It can be configured to trade continuations and/or reversals.
Select Pending Stop Orders or Market Orders.
Dozens of safety features.
Low risk of blowing your account.
It can be traded on multiple pairs with low spreads.
It can trade with a fixed lot or use an auto lot and increase the size of the transaction automatically according to the specified criteria. This Scalper EA impresses with its profit even on tiny deposits and has a low maximum drawdown when trading. Velocity Expert Advisor does not use dangerous trading methods like martingale, grid, etc. All transactions are always protected by a small Stop Loss and take profit.
Please test in a demo account first for at least a week. Also, Make yourself familiar with and understand how Velocity Robot works, then only use it in a real account.
Recommendations for Velocity EA
Minimum account balance of 100$.
Default settings optimized for GBPUSD and EURUSD. (Work on any pair)
Work Best on M1 TimeFrames. (Work on any time frame)
it's susceptible to slippage, spread, and slow execution.
This Expert Advisor FREE should work on VPS without any interruption with low latency to reach stable results. So we recommend running this free forex EA on a reliable VPS (Reliable and Trusted FOREX VPS – FXVM)
Low Spread, Slippage, and quick execution Forex Broker account is also Recommended (Find the Perfect Broker For You Here)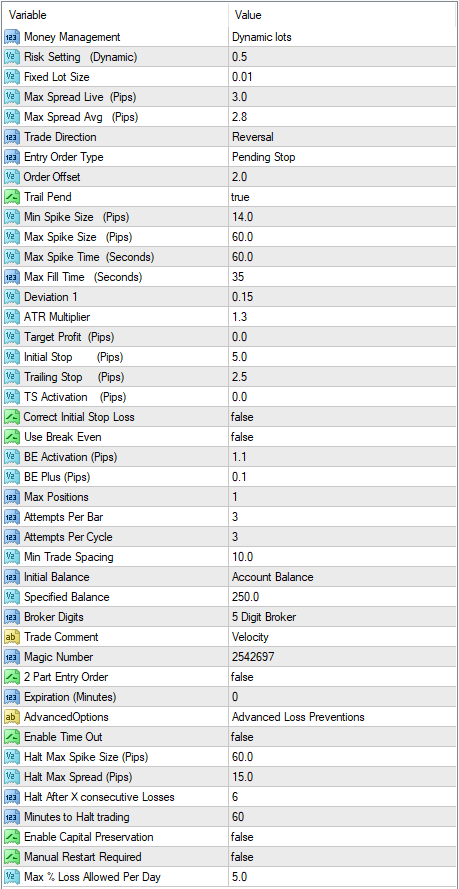 Money Management – Drop down menu. Choose Dynamic or Fixed lots.
Risk Setting – ​To be used with Dynamic lot sizing above.
Fixed Lot Size –​ Fixed lot size to be used with fixed lots above.
Max Spread Live – Max current/live spread allowed to place a trade (Pips).

Max Spread Average – Max Average Spread (last 20 ticks) allowed to place a trade (Pips).
Trade Direction – Drop-down menu. Choose Reversal, Continuation, or Both.
Entry Order Type –Drop-down menu. Choose Market orders or Pending stop orders.

Order Offset – Distance in pips to place pending orders from the current price
Trail Pend – If true, pending orders will be trailed behind the current price at a distance of the above offset.
Min Spike Size –​ Minimum Spike size (Pips).
Max Spike Size – ​Maximum Spike size (Pips).
Max Spike Time – ​Maximum time for the spike to happen (Seconds).
Max Fill Time – Maximum time after spike occurs for pending orders to be filled (Seconds).
Deviation 1 – ​Standard Deviation setting.
ATR Multiplier – ​ATR will be multiplied by this factor.
Target Profit – ​Target Profit (Pips).
Initial Stop Loss – ​Stop Loss (Pips) for Initial stop loss placement.
Trailing Stop – Stop loss will be trailed behind price at this distance (Pips).
TS Activation – Number of pips into profit before trailing stop is activated.
Correct Initial Stop Loss – If true, the initial stop loss will be corrected depending upon entry slippage to maintain proper Initial stop loss distance.
Use Break Even ​- If true, the Break even function will be enabled.
BE Activation – Number of pips into profit before stop loss is moved to break even (plus pips).
BE Plus -​The number of pips into profit stop loss will be moved after the price reaches BE Activation pips above.
Max Positions – Maximum number of positions allowed. Pending and open positions combined.
Attempts Per Bar – ​Maximum number of trades allowed per spike.
Attempts Per Cycle – Maximum Number of trades allowed per "Max Fill Time" cycle.
Min Trade Spacing – Minimum distance (Pips) from the last trade before the new trade is entered.
Initial Balance – Drop-down menu. Choose either the entire account balance or a specified balance for this EA.
Specified Balance – If the specified balance is chosen above, this is the amount for the Velocity Expert Advisor to begin trading with.
Broker Digits – ​Drop down menu. Choose 4 or 5 digits.
Trade Comment – User defined trade comment. Magic Number is also added to the end of the comment for use in trade analysis.
Magic Number – Unique Serial number for EA. If running multiple instances on the same account and currency pair, use a Unique Magic number for each instance.
2 Part Entry Order – If true, Market orders are sent in two parts. A few ECN brokers require this.
Expiration Minutes – Expiration (Minutes) for Pending Orders. For brokers that require an expiration other than 0 (no expiration).
Advanced Options – ​Advanced Loss Prevention.
Enable Time Out – If true, Velocity Expert Advisor will pause Trading if any of the below three conditions occur.
Halt Max Spike Size – Trading will be paused if a spike occurs larger than this setting (Pips).
Halt Max Spread – If the spread occurs larger than this setting (Pips), Trading will be paused.
Halt After X Consecutive Losses – If the EA experiences more than this many losses in a row, Trading will be paused.
Minutes To Halt Trading – If any of the above three conditions have occurred, the EA will pause for this many minutes.
Enable Capital Preservation – If true, EA will pause if it losses a user-defined percentage of the account in one day.
Manual Restart Required – If true, and the Velocity EA loses the above defined percent in one day, Manual intervention is required to restart Trading. Otherwise, Trading will resume the next trading session.
Max Percentage Loss Allowed Per Day – This is the Maximum amount the EA is allowed to lose Per Day if using Capital Preservation.
Expert Advisor FREE Download
Discussion
Warning! Please read the MetaTrader EA Installation Tutorial if you do not know how to set up this forex expert advisor.
Do you have any more suggestions regarding this forex EA? You can always discuss the Velocity EA with the other traders and MQL programmers on our forum.