Perceptrader AI EA is a FREE Forex EA with a live track record, many years of stable trading, and a low drawdown. This EA claims to combine the principles of grid trading with the high-tech capabilities of Artificial Intelligence (AI), Deep Learning algorithms, and Artificial Neural Networks (ANN). But is this a groundbreaking revolution in trading, or is it just another buzzword-filled marketing gimmick?
Perceptrader EA is a trading system that claims to provide a comprehensive solution for forex trading. According to the developers, it leverages state-of-the-art technology to analyze large amounts of market data at high speeds, identifying trading opportunities that humans may miss. Here are some of the features that the system touts:
Trend, Momentum, and Volatility filters based on Deep Learning algorithms: These filters purportedly assess the market to help identify the most promising trades.
Artificial Intelligence (AI) forecasts filter low-potential trades: The AI is designed to project market behavior, enabling traders to sidestep low-return or high-risk trades.
Advanced News and Stock Market Crash Filter: This feature protects your investments from sudden market downturns and news events that could lead to volatility.
Multiple Currency Pair Support: The system claims to work across various currency pairs, increasing the profit opportunities.
One Chart Setup: You only need one chart to trade all symbols, simplifying the trading process.
Flexible Customization: Many filters and options are available for tweaking the system according to individual trading styles.
Automatic GMT Adjustment: This helps align the trading system with the global market timings.
Statistic Panel with Self-Diagnostic System and Neural Network Forecast Indicator: This built-in feature provides analytics and diagnostic tools for a comprehensive trading strategy.
While all of these features sound impressive, it's crucial to take these claims, especially those related to AI, Deep Learning, and ANN, with a grain of salt. These complex technologies require substantial computational power, machine learning, and data science expertise. Many products in the marketplace slap the "AI" label on their offerings as a marketing tactic, even when their algorithms are far from what AI experts would consider "intelligent."
Please test in a demo account first for at least a week. Also, please familiarize yourself with and understand how this Perceptrader AI Robot works, then only use it in a real account.
Recommendations for Perceptrader AI EA
Minimum Account Balance of 1000$.
AUDCAD is recommended, and If your broker uses a suffix (e.g. AUDCAD.a), you should update names in the Symbol parameter.
This EA is one chart setup, so it's only needed to attach on one pair. It will trade on all pairs described on the input parameter.
Work Only on M5.
MT4 cannot perform multi-currency backtests, So when you backtest this EA, you only get the result of the pair you tested.
This Perceptrader AI EA should work on VPS continuously to reach stable results. So we recommend running this MT4 EA Download on a reliable VPS (Reliable and Trusted FOREX VPS – FXVM)
The EA is NOT sensitive to spread and slippage. But We advise using a good ECN broker (Find the Perfect Broker For You Here)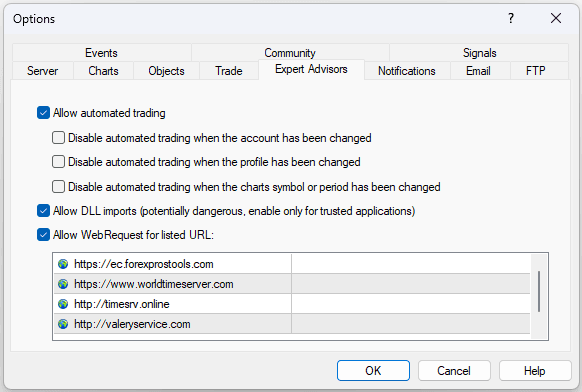 Open Tools –> Options –> Expert Advisors. Check the option "Allow WebRequests for listed URL" Add the following: "https://www.worldtimeserver.com", "http://timesrv.online", "http://valeryservice.com", "http://valerytools.com" and press "OK." The EA takes news from the specified websites.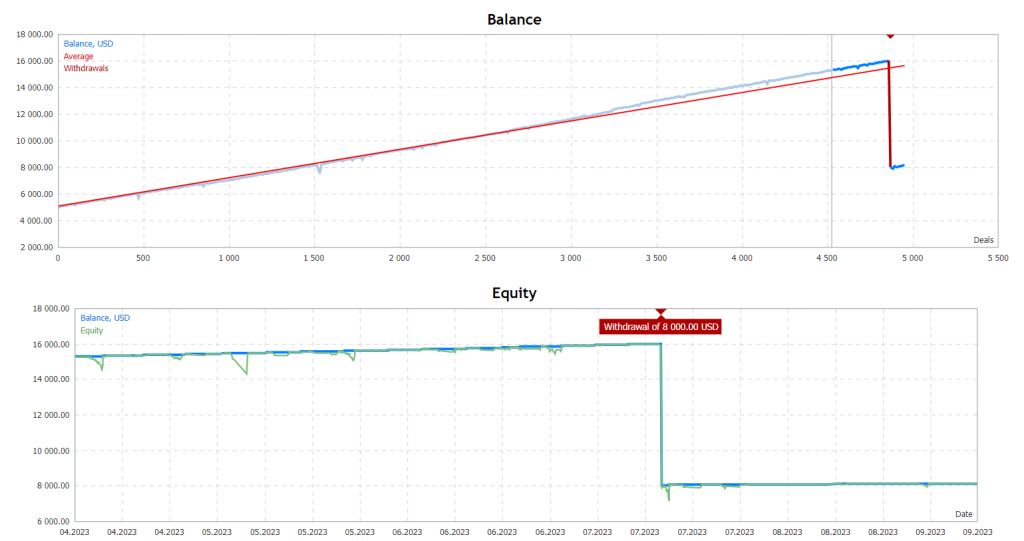 If you have already used this EA, feel free to leave a review of your experience with this EA.
Conclusion
Perceptrader AI EA promises a new horizon in forex trading by combining grid trading techniques with advanced technologies like AI and neural networks. However, the grandiosity of these claims warrants careful scrutiny. Until solid evidence is provided, it might be wise to approach this trading system as an intriguing possibility rather than a guaranteed pathway to trading success.
All credit goes to  Access Violation for unlocking this.