Forex Legend EA is an easy-to-use professional trading system that has 2 extraordinary strategies. These strategies are designed specifically for long-term sustainability. Targets a bigger number of pips avoiding broker manipulation (Pip expectancy over 20 pips).
Entry and exit logic operate on Bar Close only. This filters market noise dramatically accelerates optimizations, avoids stop loss hunting, and ensures proper operation at any broker with an inexpensive spread. No short term risky strategies ( scalping, martingale, grid )
Sophisticated exits working together include broker decoy and safety stops, virtual (stealth), trailing, breakeven, partial closings at multiple exit targets
Multiple safety features to keep your account safe from power outages, internet outage or disconnect, broker context busy, platform freeze, and much more
Please test in a demo account first for at least a week. Also, Make yourself familiar and understand how the Forex Legend works, then only use it in a real account.
Recommendations
Minimum account balance of 1000$.
Work Best on M15 TimeFrames. (Work on any

TimeFrames

)
Work best on EURUSD, USDJPY, XAUUSD. (Work on any Pair)
For best performance Forex Legend EA should be online 24 hours, Recommend using a VPS (Reliable and Trusted FOREX VPS – FXVM)
Low Spread ECN account is also recommended (Find the Perfect Broker For You Here)
Strategy One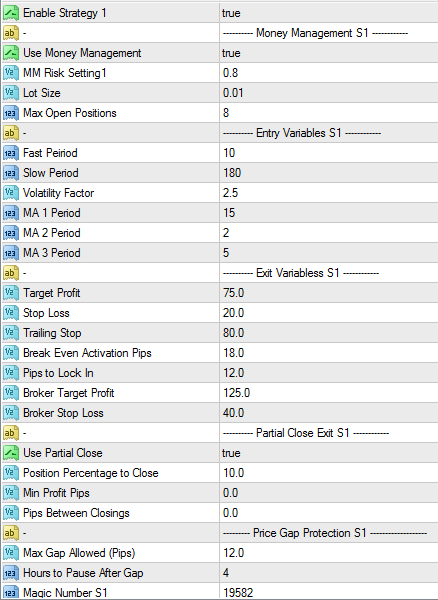 Enable Strategy 1 – Set true to enable
Use Money Management – Select true to use automated lot sizing
MM Risk Setting 1 – Risk Setting for Money management
Lot Size – Fixed Lot size
Max Open Positions – Max opened Positions using Forex Legend EA for strategy 1
Fast Period – Period of bars for fast measurement
Slow Period – Period of bars for slow measurement
Volatility Factor – Factor for volatility calculation
MA 1 Period – Moving average 1.
MA 2 Period – Moving average 2.
MA 3 Period – Moving average 3.
Target Profit – Virtual (Hidden) Target Profit pips
Stop Loss – Virtual (Hidden) Stop Loss pips
Trailing Stop – Virtual (Hidden) Trailing Stop  pips
Break-Even Activation Pips – Price must be this far into profit for breakeven activation
Pips to Lock In – Pips to lock-in 
Broker Target Profit – Set to a number slightly larger than Virtual Target Profit. Sending hard exits to the broker serves a dual purpose as both a decoy and safety mechanism
Broker Stop-Loss – Set to a number slightly larger than Virtual Stop Loss. 
Use Partial Close – Set to true to close positions at multiple exit targets
Position Percentage to Close – Percentage to close at each target
Min Profit Pips – Minimum amount of pip before the first exit
Pips Between Closings – Number of pips into profit between closings
Max Gap Allowed – If Price Gap exceeds this number of pips trading will be paused
Hours to Pause After Gap – Trading will be paused this many hours after the price gap
Magic Number S1 – Use a unique number for each strategy on every instance of Legen
Strategy Two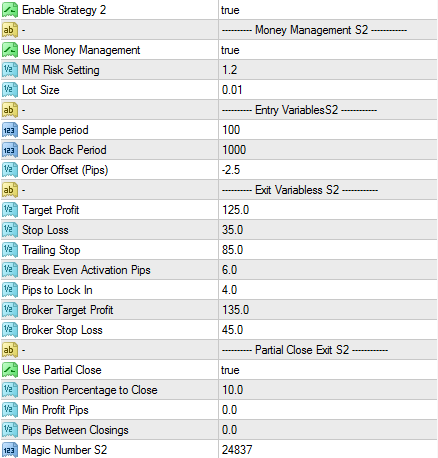 Enable Strategy 2 – Select true to enable strategy two
Use Money Management – Select true to use automated lot sizing
MM Risk Setting 2 – Risk Setting for Money management
Lot Size – Fixed Lot size
Sample Period – Number of bars for support/resistance algorithm
Look Back Period – Number of bars scanned
Order Offset (Pips) – Entry orders offset
Target Profit – Virtual (Hidden) Target Profit pips
Stop Loss – Virtual (Hidden) Stop Loss pips
Trailing Stop – Virtual (Hidden) Trailing Stop pips
Break-Even Activation Pips – Price must be this far into profit for breakeven activation
Pips to Lock In – Pips to lock in with breakeven activation
Broker Target Profit S2 – Set to a number slightly larger than Virtual Target Profit. Sending hard exits to the broker serves a dual purpose as both s a decoy and safety mechanism.
Broker Stop-Loss S2 – Set to a number slightly larger than Virtual Stop Loss.
Use Partial Close – Set to true to close positions at multiple exit targets
Position Percentage to Close – Percentage of the original position to close at each target
Min Profit Pips – Minimum amount of pip before the first exit
Pips Between Closings – Number of pips into profit between closings
Magic Number S2 – Use a unique number for each strategy on every instance of Legend
Universal Variables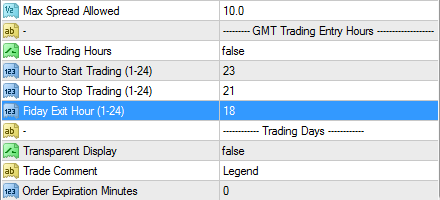 Use Trading Hours – Set true to use trading hours
An hour to Start Trading – Hour to start (GMT time)
Hour To Stop Trading – Hour to stop (GMT time)
Friday Exit Hour – Hour to Forex Legend EA to stop trading on Friday and exit trades. (broker time)
Transparent Display – Set true for transparent display
Trade Comment – Comment to be sent with trades
Order Expiration Minutes – Pending Order Expiration Minutes 0 = Never expires