Are you looking for a powerful and effective Expert Advisor to trade gold? Look no further than AutoTrader Sniper Gold Forex EA. This EA is specifically designed for trading gold and operates using the Gold Gap Trend indicator, which follows a trend-following strategy.
The Gold Gap Trend indicator is a highly accurate trend indicator that can use for any financial instrument, including gold. It does not redraw or lag, making it a reliable tool for identifying profitable trading opportunities. The recommended time frame for this indicator is H1.


When using AutoTrader Sniper Gold EA, we recommend a trend or scalper strategy and testing it on the H1 time frame and other TFs. The EA is optimized for gold but can also be used on other pairs. It is recommended to run the EA 24 hours a day, with a maximum drawdown of 30%. A minimum balance of $1000 is recommended for a lot size of 0.01 per pair, and the potential return is between 50-100%.
Before using AutoTrader Sniper Gold EA on your live account, it's recommended to test it on historical data and run it for a couple of days on a demo account with a similar balance as on your live account. This will ensure everything is working out well and you have a good understanding of the risks involved in trading.

Gold Forex EA Settings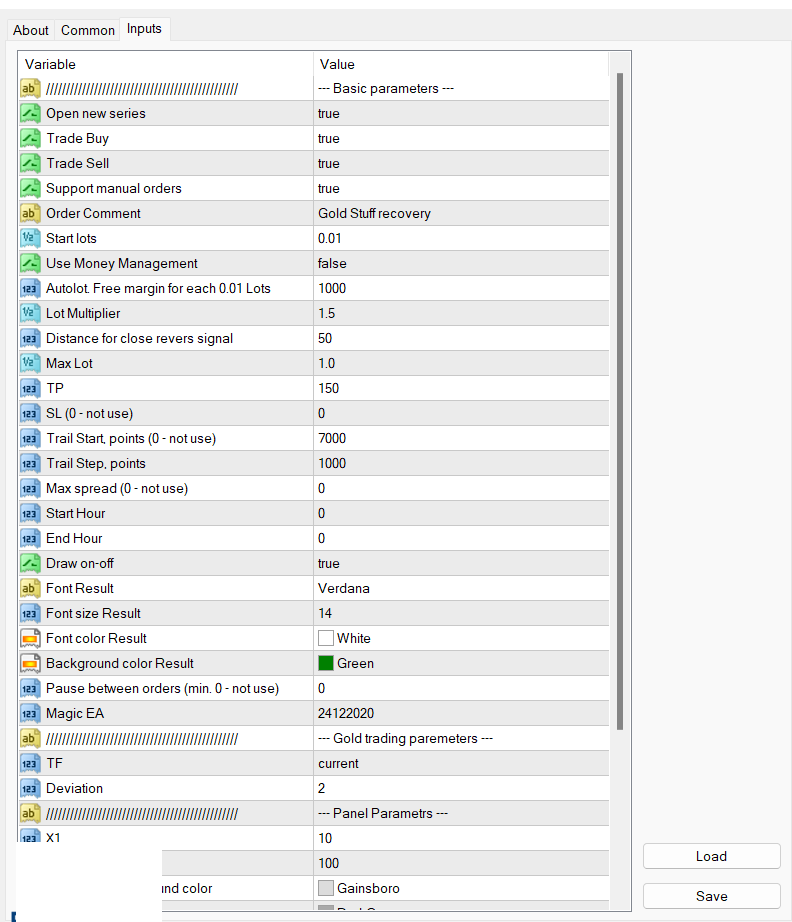 Open new series – on/off the beginning of a new series of orders.
Start lot – start Lot.
Trade Buy – allow the expert adviser to buy.
Trade Sell – allow the expert adviser to sell.
Use hedge – allow the expert adviser to trade both directions, buy and sell. If off only one trade direction.
Use Money Management(MM) – on/off the use of automatic lot calculation.
Auto lot. The free margin for each 0.01 lot – the amount of free margin for opening every 0.01 lot.
Lot multiplier – lot multiplier for the following orders.
TP – take profit, in pips.
SL – stop loss, in pips from the first order.
Trail Start – activation of a trailing stop.
Trail Step – distance from the price when activating a trailing stop.
DD Reduction Algorithm – drawdown reduction algorithm is when the last order with profit will close with the first order series with a loss.
Number order for DD Reduction Algorithm – from which order the drawdown reduction algorithm is activated.
Percent profit for DD Reduction Algorithm – the profit percentage when closing orders in the drawdown reduction mode.
Magic – is a unique number that the EA assigns to its orders.
Fix distance – the fixed distance between orders
Order dynamic distance – from which order will the dynamic distance be applied in order?
Dynamic distance start – the starting value for the dynamic distance.
Distance multiplier – the dynamic distance multiplier.
Start, End hour – time for opening the first order.
Maximum Lot – maximum Lot.
Maximum spread – the maximum spread for the adviser.
Result of Gold Forex Robot

You can download AutoTrader Sniper Gold EA and back-test it. I used 99.9% real tick data for back-testing. Most inner parameters are hidden from the user, so even a beginner will avoid mistakes.
AutoTrader Sniper Gold Forex EA Free Download
Warning! Please read the MetaTrader EA Installation Tutorial if you do not know how to set up this forex expert advisor.
Read More Forex News Trading EA FREE Download