This forex indicator was developed and submitted by megafxprofit.com. It is an all currency pairs indicator suited for any mt4 currency pair of your choice. It is also a forex indicator that is designed for use on all mt4 timeframes. The forex indicator is also usable on all forex trading brokers; you can use it when trading with forex XM broker, hot forex broker, Alpari broker, etc. It is also an all-session trading indicator.
To use this forex indicator to trade, you don't need to be too experienced in forex trading. This forex indicator is actually designed to help forex traders make a profit when forex trading. Therefore it is a good tool of aid for the new traders. If correctly used, it can get to a gain of about 140 pips per day.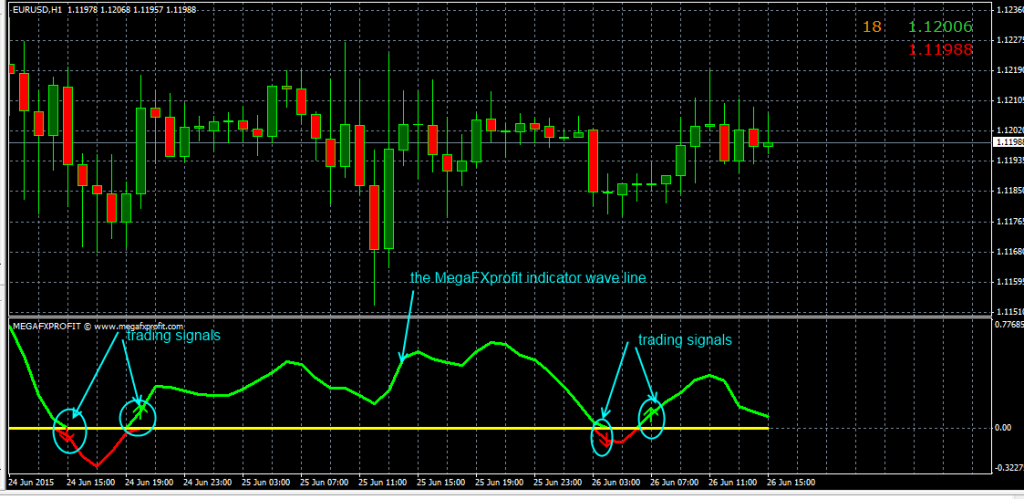 Fig.1. The Mega FX profit forex indicator loaded on the MT4
The indicator is shown on a different mt4 chart below the main trading chart. Even the entry signals that are provided are shown on the indicator chart that is usually below the main mt4 trading chart. Your trading chart is left clean. However, you may have to add other indicators of your choices if they are necessary. Especially a forex indicator to show the spread so that you know the amount of adverse your order will enter the live market with.
The forex indicator forms a wave line that changes between red and green. There is a straight yellow line that changes its color when the wave line crosses it. The yellow color line is at a zero level. Once the mega fx profit wave line crosses this yellow color straight line to the bottom, its color changes to red color, then when it crosses upwards, the line becomes green color.
The indicator gives a trading entry signal every time the wave line crosses the yellow straight line. The signals are displayed in the form of arrows. The arrow can either be red color or green, and it is given after one to two candles form in the exact directions of the trend after the wave line crosses the yellow color straight line. Therefore, you should not place a live trade immediately after the wave line crosses the yellow color straight line. You should be very patient and wait for the forex indicator to confirm the market trend with an arrow signal.
Opening trades when using the Forex Mega FX profit indicator
Using the Forex Mega FX profit indicator, you should trade with confidence. The indicator is proven, and its entry signals are usually efficient with very minimal chances of errors.
To place orders, you must watch for the indicator chart's arrows. If a green color arrow appears, then you should place a buy order. If a red arrow appears, you should put a sell order.
Illustrating how to use the Forex Mega FX profit indicator to open and close live trades.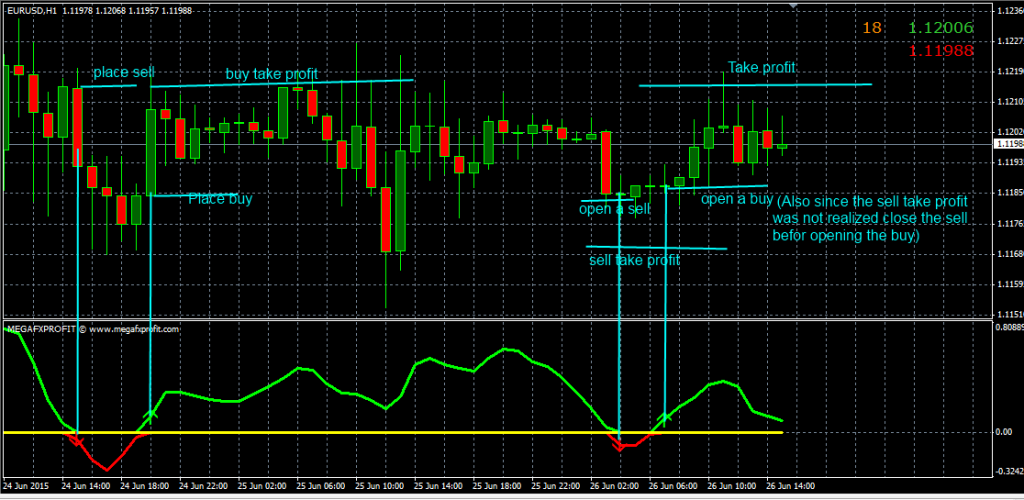 This indicator is best for forex traders that watch the market 24/7. Once you place the trade, you wait for an opposite signal to be given and close your previous order as you put another opposite order if the take profit you set isn't realized. You can trade on a single currency pair and have a running trade at all times since once you close an order, you open another.
Read More: Mega FX Profit Forex Indicator Free Download
Mega FX Profit Forex Indicator Free Download