This indicator was made by gfkforex. It is a straightforward and non-complicated forex indicator to use. It is an indicator that is designed in such a way that it suits even beginners. You don't have to spend much time trying to do forex technical analysis. It does everything for the trader and only shows what is necessary for the forex trader. It doesn't make the chart appear disorganized since it gives very little but very important information. It is a self-satisfying indicator that can use independently without needing other indicators.
The forex indicator is in such a manner that it shows the trend of the market prices. And at the same time, it gives a buy or sells signal. The indicator is shown on a separate chart below the mt4 main chart. It has a blue color line that indicates the trend of the trend. Then there is also a sell entry or a buy signal shown in the top right corner. It is shown as a red color dot in case it is a sell entry signal or a blue color dot in case it is a buy entry signal with the sell signal or buy entry signal, respectively, depending on which signal is given.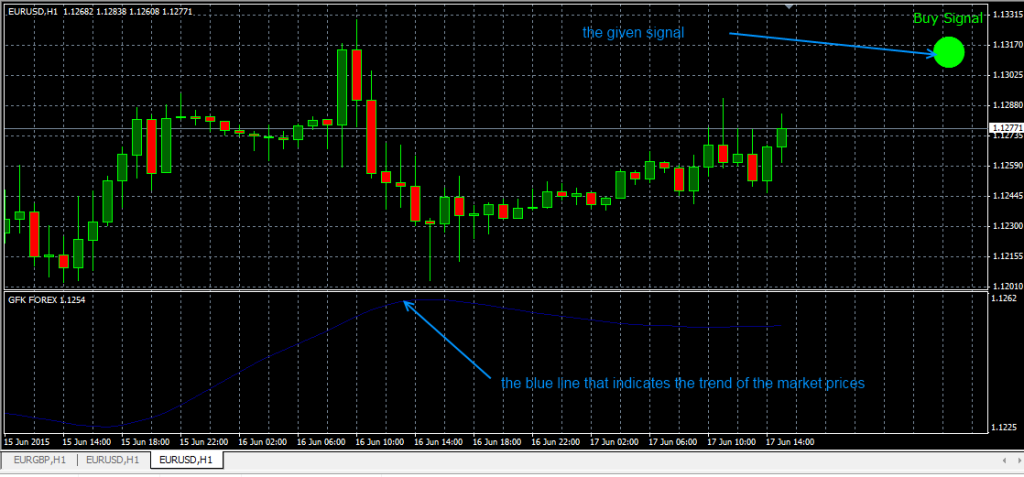 Fig.1. The GFK Forex Indicator.
The swings plot the blue line according to the market prices trend on a chart. On the right side of this mt4 chart, there is a vertical scale in the market price range that is used to get the trend indicated at the moment. For example, if the market prices analyzed were from1.7234 to 1.7564, this will be the min and minimum of the scale. Therefore this scale varies according to chart time and the mt4 currency pair used.
How to place orders using forex GFK Forex Indicator
A trader needs to use this indicator only to place the order when the indicator says to place the trade. You put a sell when the signal is a red dot accompanied by a sell signal. The trader should place a buy if the signal is a blue dot accompanied by a buy signal.
GFK Forex Indicator example of a sell signal.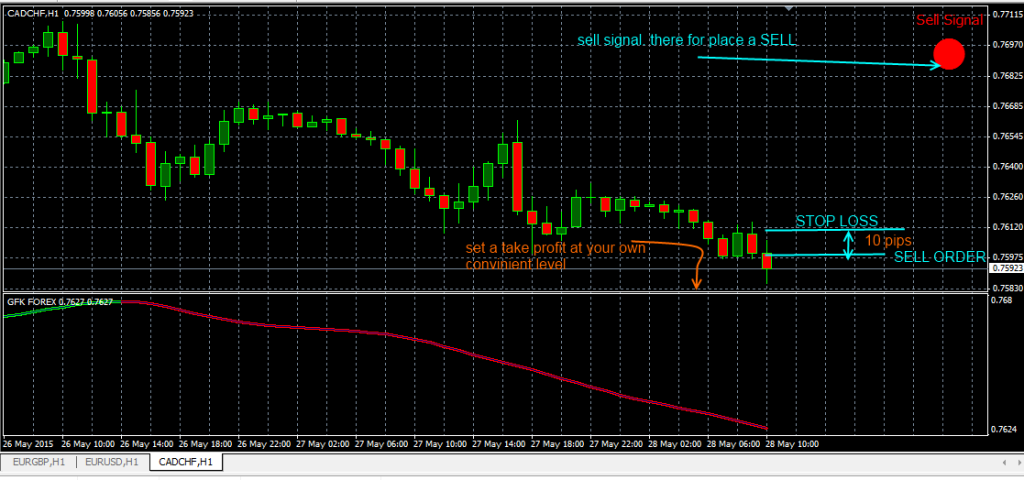 GFK Forex Indicator example of a buy signal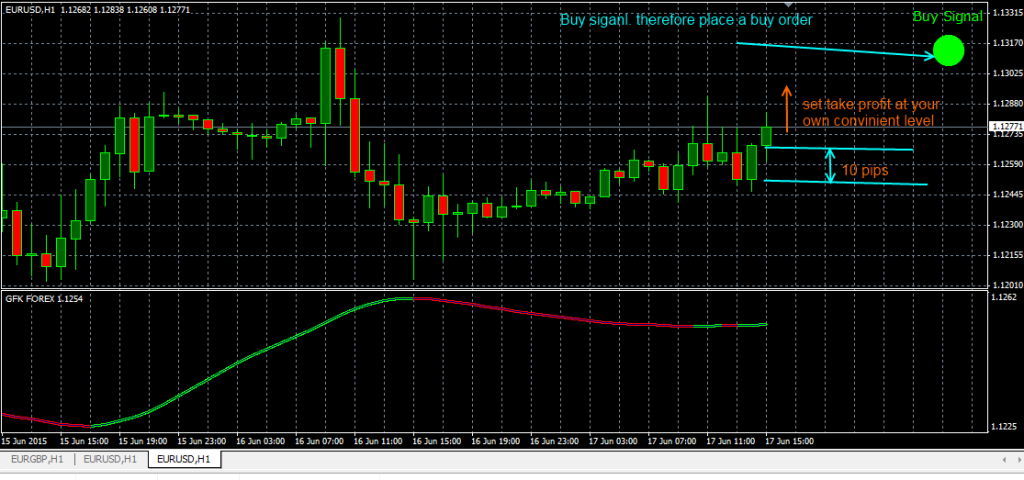 After placing the orders, you should either use stops or be there to watch the market for you to close the order when an opposite signal is given. For the stops, you should place a stop loss at a maximum of ten pips away from the entry point of the order. Then should place the take profit at a realizable level. You should not set your take profit(TP) at a level that might take too long to be met.
Read More: Multi Trend Signal Forex Indicator Free Download
GFK Forex Indicator Free Download