DarkSlide Scalper Forex Robot is a very short scalper EA based on a series of indicators that measure the candle's momentum, taking benefit of the small impulses and bounces to open and close trades in rapid sessions. It is a scalper with a very short take and a stop.
Its operation comes with SL and TP, as well as trailing stops, with the option of setting a fixed lot or compound interest. The adviser works on the micro-level release. Trades are determined by a smart graphical algorithm. DarkSlide Robot Doesn't use any dangerous strategies like martingale.
Please test in a demo account first for at least a week. Also, Make yourself familiar and understand how the DarkSlide Scalper Robot works, then only use it in a real account.
Recommendations
Minimum account balance of 20$. (Change "Lot for 1000 deposits" input parameter accordingly)
Work Only on EURUSD, GBPUSD, USDJPY, EURJPY (Best on EURUSD mainly because of the low spread)
Only Work on 5M TimeFrame
To reach stable results, This Scalper Forex Robot should work on VPS without any interruption with Very low latency(Requires latency 5 – 15ms). So we

Highly Recommend

running this free forex EA on a reliable VPS (Reliable and Trusted FOREX VPS – FXVM)
Low Spread account is also

Highly Recommended

 (Find the Perfect Broker For You Here)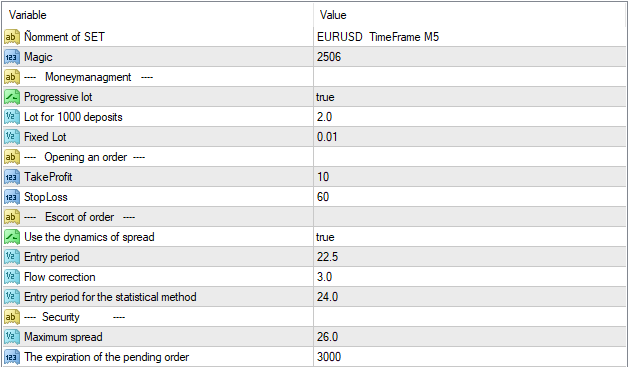 Сomment of SET – Comment on the setting.
Magic – Magic orders on this currency pair.
Moneymanagement – Lot calculation block.

Progressive lot – If true, then a progressive lot will be used / if false – a fixed lot will be used.
Lot for 1000 deposits – The setting is used if the value is "true – progressing the lot". Lot will be taken for every 1000 deposit. (for example, the setting is 0.56, and the deposit is $ 350. Lot orders = 350/1000 * 0.56 = 0.196. The order will open with a lot of 0.20.)
Fixed lot – The setting is used if it is set to "false – progressive lot". The order will be opened with the lot specified in this setting.

Opening an order – Settings block for opening orders.

TakeProfit (if 0 – no TP) – Take profit If the setting is zero, there will be no take profit.
StopLoss – Stop Loss.

Escort of order – Order tracking block.

Use the dynamics of spread – Use the dynamics of changes in the spread.
Entry Period – The parameter that affects the sensitivity of the algorithm to the screening of signals.The larger it is, the more signals will be eliminated.
Flow correction – Spread flow correction factor using spread dynamics.
Entry period for the statistical method – A setting that affects the