Heiken Ashi Indicator mt4 displays the smooth candles in the market by removing the market noise, thus showing a precise formation of a bullish or a bearish trend and avoiding false signals.
Every trader, when learning forex or any other market, first of all, learns about Japanese candlesticks. Japanese candles are most widely used in technical analysis. These candles display the following information on the charts. Open high low, and close. But there is a downside to using Japanese candles as well.
Sometimes inside ranging markets and in a retracement, there is a lot of noise. This makes it very hard to identify the direction of the market. This problem is solved by using the Heiken Ashi indicator mt4.
Working of Heiken Ashi Indicator mt4
The indicator works by averaging the values of two candles on the chart at any timeframe, thus smoothing out the prices and removing the market noisier that we can see in Japanese candlestick charts.
The indicator displays candles in two colors. The Heiken Ashi candles are red when the market is moving in a bearish direction, and the candles are green when the market is moving in a bullish direction.
See also Crystal FX Indicator FREE Download
Settings of the Heiken Ahis indicator mt4
Inside the indicator's settings, we change the colors of bullish and bearish candles for their bodies and wicks.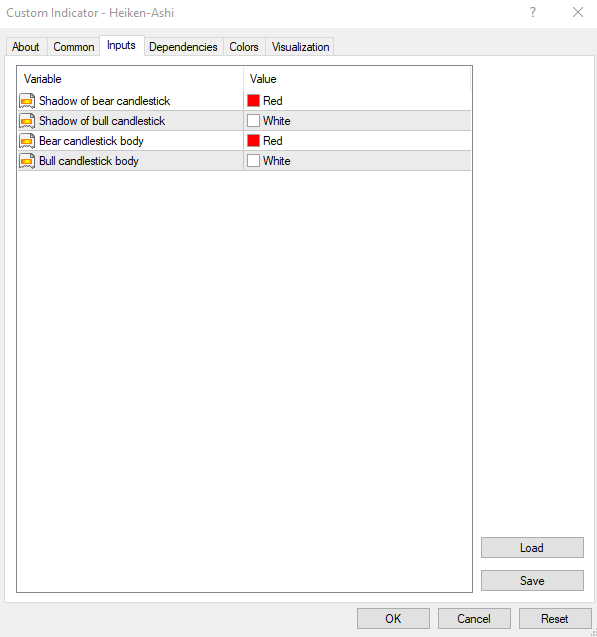 Heiken Ashi Indicator mt4 settings
Trading Strategy For Heiken Ashi indicator for mt4
The Heiken Ashi is a chart just like Japanese candles, but it has advantages.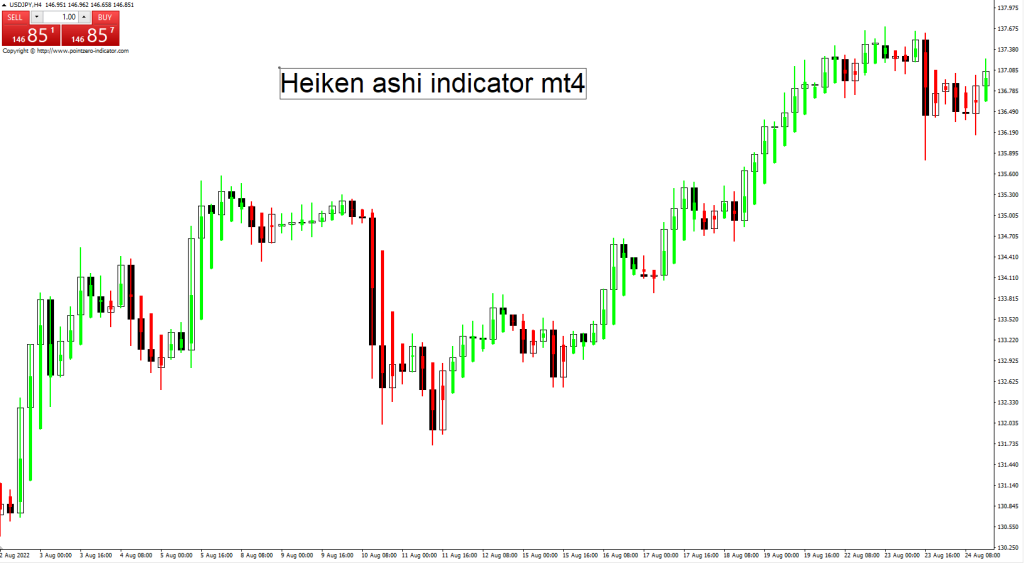 Heiken Ashi Indicator mt4
One of the most practical uses of this indicator is to determine if the market is moving in a bullish or bearish direction because the indicator shows the market trend clearly.
Also can use this indicator to check the strength of a bullish or bearish trend. 
When there is a bullish Heiken Ashi candle with no shadow at the bottom, the buyers are influential, and the market is like to move in a bullish trend. Conversely, the sellers are vital when there is little or no shadow above a red Heiken Ashi candle.
Conclusion
Heiken Ashi indicator mt4 is a convenient tool for you to use with Japanese candlestick charts. Using this indicator, you will get more accurate information about the market trend and can avoid false breakouts.
Heiken Ashi Forex Indicator MT4 Free Download