If you're a trader or investor, you may have heard of Tradingview. You know that it's a great platform for technical analysis, and you may already be using it. But did you know that there are different types of plans available? Do you know which one is right for you?
The good news is that deciding which plan to use doesn't have to be complicated. In this article, I'll walk you through all the different Tradingview plans so that you can decide which one is best for your needs. We'll look at the features included in each plan and some tips for how to maximize their value. By the end of this article, you'll know exactly which plan is best for your trading goals. Let's get started!
Table of Contents
Introduction to Tradingview
Tradingview is the best online charting and trading platform available. It's the go-to destination for traders, investors, and financial professionals alike. Whether you're a beginner or a pro, Tradingview can help you make better decisions faster.
To get the most out of Tradingview, knowing what plans they offer and which will best meet your needs is important. There are four different plans available: Free, Pro, Pro+, and Premium. Each plan offers a different set of features that cater to various kinds of traders and investors. Here's a quick overview of each plan and the features they offer so you can decide which one is best for you:
Free: The free plan offers a lot of great features for those just starting out in trading or investing. You'll get access to all technical analysis indicators, intraday data up to 10 years back both in real-time and historical format, as well as basic sharing options.
Pro: The Pro plan takes things up a notch with additional access to real-time data up to 20 years back, along with more advanced indicators like Range Bars and Renko charts. You'll also get access to several powerful charting tools like Chart Pine Scripts and MultiCharts functionality.
Pro+: For even more year-on-year data as well as advanced analytics tools like Options Chain Widgets, Algorithm Backtesting, and Automated Strategies support, then upgrade your account to Pro+.
Premium: Finally, we have the Premium plan, which includes all the bells and whistles plus unlimited cloud storage of your charts and watchlists as well.
TradingView Plans Comparison
As you can see, there are a few different plans to choose from when it comes to Tradingview. But which plan is right for you? Let's look at a Tradingview comparison of each plan.

The Free Plan: What Can You Expect?
So, let's take a look at the free plan first. You might be wondering what it includes – some of the features included in the free plan are charting and analysis, real-time data and news, alerting and research capabilities, and access to the TradingView community.
Now that you know what to expect from the free plan, let's look at its limitations. With this plan, you can only access limited technical indicators, drawing tools, and watchlists. You also won't have access to backtesting or automated trading.
However, if you are a casual investor or just getting started with tradingview, then the free plan should give you all the tools you need for basic charting and analysis. And if you ever decide to upgrade to one of their paid plans later down the road, all of your existing watchlists will automatically transfer over—no need to re-enter your hard work!
Examining the FREE Plan
So what about the FREE plan? Is that enough for you? Let's look at the FREE plan's main features and see if it fits your needs.
When it comes to indicators, with FREE, you can use up to 3 indicators (including all the available ones). But beware—the backtesting feature is not available on this plan; you will also have limited access to its social features, like copying trades or tracking other traders.
The FREE plan may seems limiting, but it still provides enough access to satisfy basic needs. It allows you to trade with no extra fees and includes handy features such as real-time data for stocks (until 20+ exchanges), forex, cryptocurrencies, futures, and metals. You can customize your charts with different drawing tools and more than 50 built-in indicators, and over 100000+ custom scripts.
Limited streaming real-time data (only 100 markets)
Only three indicators in a single chart at once
Limited symbols/timeframes
No live broker trading
No automated trading strategies
Limited indicator library
No access to extended hours of data
No backtesting capabilities
At the end of the day, it depends on how you want to use TradingView—if you are starting out or don't need advanced backtesting capabilities, then the Free plan could be all you need!
Exploring the Pro Plan
Are you looking for a bit more out of TradingView? The Pro Plan is the middle tier of their service, offering experienced traders and professionals more advanced analysis tools, making it perfect for serious trading.
Here's a brief overview of what you can get with the Pro Plan:
Extra tools
The Pro Plan includes a wide range of extra tools and features not found in the free plan, including advanced charting features like Technical Analysis, Advanced Charting Tools, Price Projections, and backtesting capabilities. You'll also get Pro+screeners to help find profitable setups faster, Market Data & calendar for real-time insights on events as they happen, and Premium Ideas for deep insights into markets.
Additional research options
This plan also gives traders access to extra research data from Morningstar and Stock Rover to help with in-depth analysis. Plus, you'll be able to create your own custom charts and extend your technical analysis with proprietary indicators from the app store. And if that's not enough, Pro members have access to Realtime Alerts so you can stay on top of all the latest market movements.
In short, if you're an experienced trader looking for deeper analysis than what's available in the free version of TradingView, then the Pro Plan is worth considering.
Examining the Pro+ Plan
The Pro+ plan on TradingView is the most comprehensive plan available. It comes with all of the features of the Pro plan, plus some additional bells and whistles that might make it worth the additional cost.
For example, you get access to a larger library of indicators and drawing tools, plus other features like trading from charts and alerts for API integrations. You also get improved access to data sources like Forex, stock, and cryptocurrency exchanges.
Suppose you're into backtesting strategies or running simulations. In that case, the Pro+ plan is definitely worth considering—it gives you access to a lot more data than the other plans so that you can create more accurate simulations.
Plus, if you're really into creating custom scripts or using your own algorithms to aid in your trading analysis and decision-making process, then the Pro+ plan should be very attractive. It allows up to 500 API calls per minute (compared to 60/per minute with other plans), so you can track short-term price movements much more accurately than on a less expensive plan.
Ultimately, whether or not the Pro+ plan is right for you depends on how deep into algorithmic trading you want to go—if you don't need these extra features then it may not be worth shelling out for this plan. But if these features are important for your trading, then it's hard to go wrong with this one!
Evaluating the Premium Plan
The Premium Plan is TradingView's top-tier package and has all the Pro Plus plan's features and some extras. It's a great choice if you need more than just the basics of chart analysis.
With the Premium Plan, you can access privileged data on pre-market and after-hours trading, real-time portfolio tracking, and customizable alerts. Plus, since it comes with unlimited charts, a watchlist, and technical indicators, this plan is ideal if you're a serious day trader or a long-term investor.
Here are some additional features that come with the Premium Plan:
Unlimited symbols in your watchlists
Ability to backtest strategies and customize trading signals
Real-time notifications for price changes, economic news, and earnings announcements
Advanced charting options like sentiment indicators and multi-time frames
Access to exclusive indicators like Fibonacci Retracements and Wave Counts
Access to TradingView's online trading platform

A feature that allows users to invest in stocks without ever leaving their charts or having to use third-party services.
Overall, it's easy to see why the TradingView Premium plan might be best for serious day traders who need extra features like real-time portfolio tracking and backtesting strategies.
Which Plan Is Right for You?
You might be wondering which Tradingview plan is right for you. The answer depends on what kind of trading you plan on doing. Each plan offers its own unique features and benefits, so let's take a look at the plans in more detail: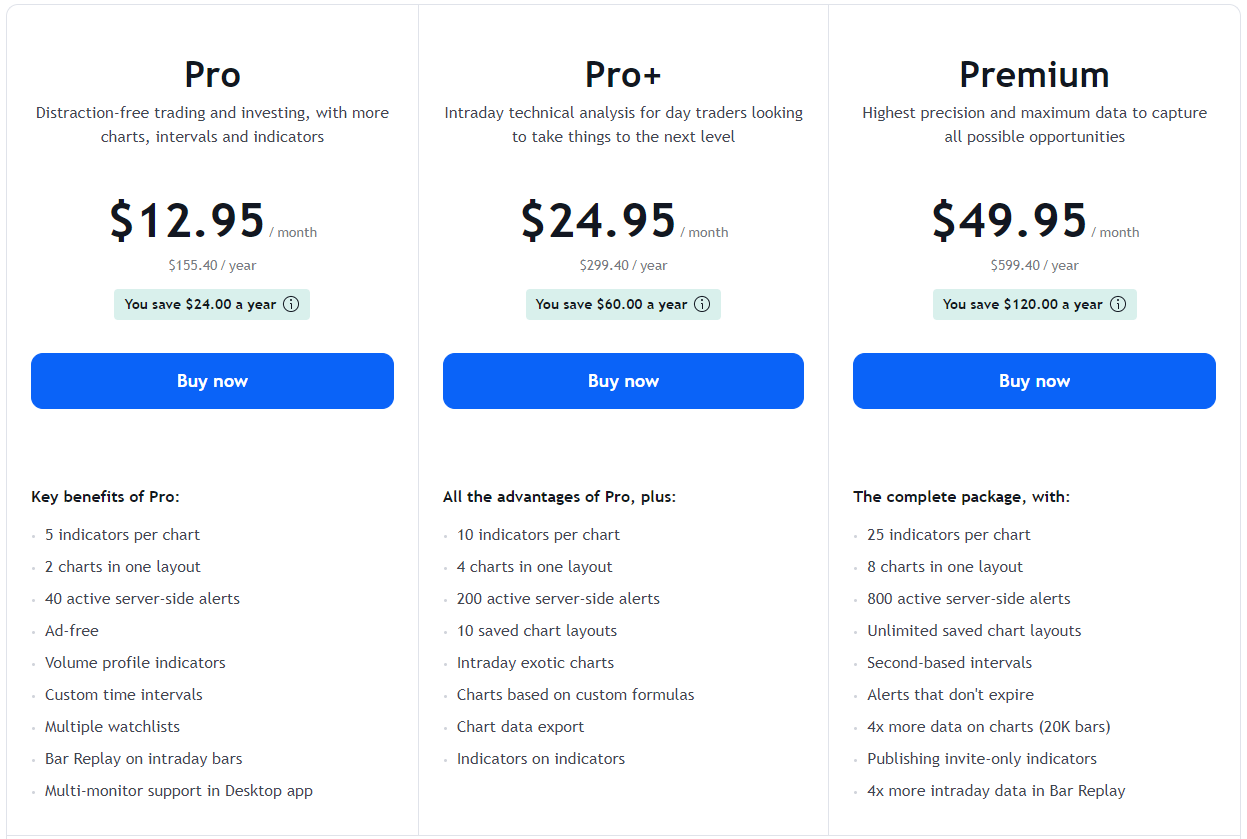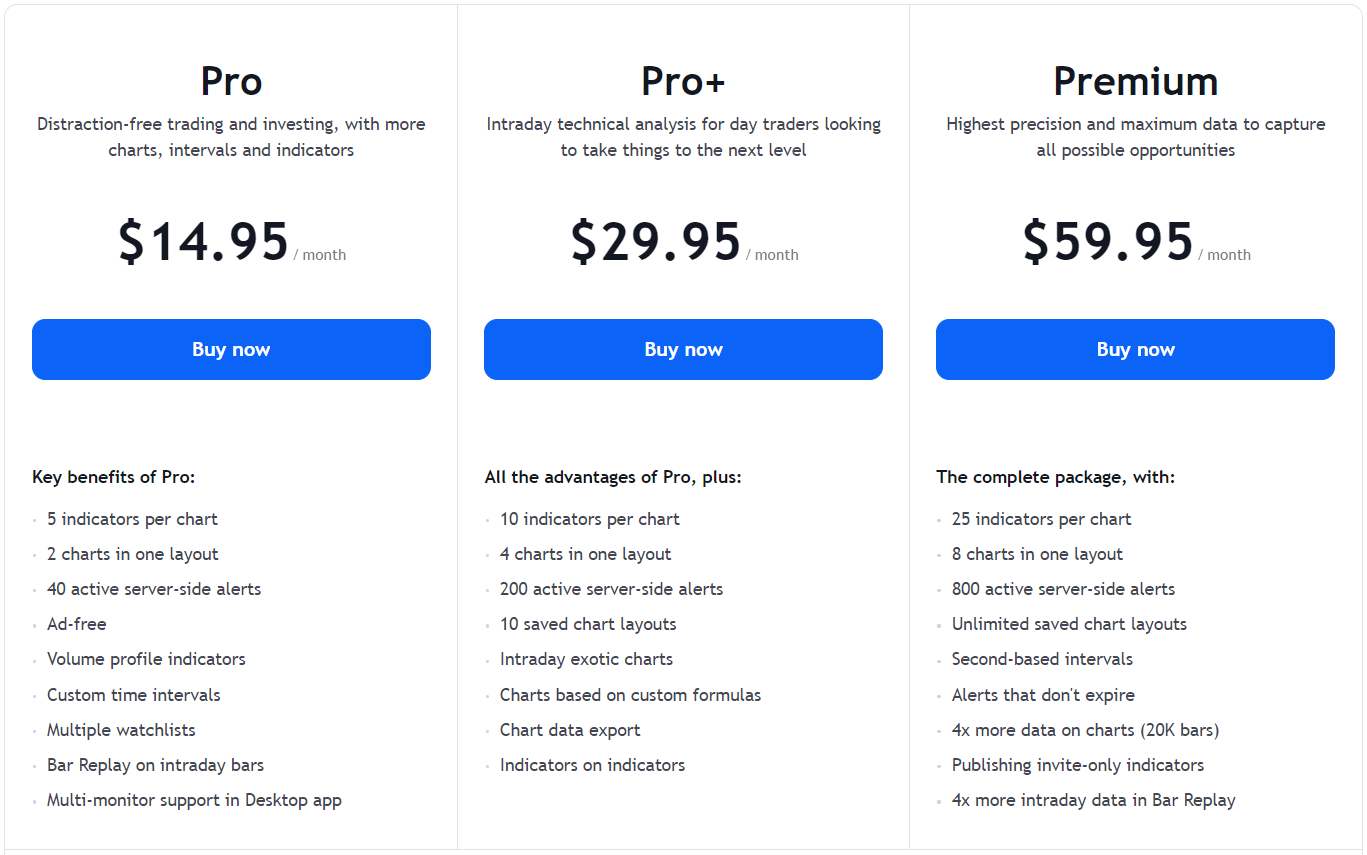 Basic: This plan is free and suitable for new traders and investors starting their journey. It offers basic charting tools and allows you to save up to one chart layout. It's a good choice if you're starting out and want to get a feel for the platform before committing to a paid plan.
Pro: This plan costs $14.95 per month or $155.40 per year and offers distraction-free trading and investing with more charts, intervals, and indicators. It allows you to have up to 10 server-side alerts and save up to 10 chart layouts. It also offers additional features, such as extended trading hours data and the ability to publish invite-only indicators. This plan might be a good choice for traders who want to take their trading to the next level.
Pro+: This plan costs $29.95 per month or $299.40 per year and is designed for intraday technical analysis for day traders looking to take things to the next level. It allows you to have up to 30 server-side alerts and save unlimited chart layouts. It also offers additional features such as second-based intervals, alerts that don't expire, 4x more data on charts (20K bars), publishing invite-only indicators, 4x more intraday data in Bar Replay, etc.
Premium: This plan costs $59.95 per month or $599.40 per year and offers the highest precision and maximum data. It allows you to have up to 200 server-side alerts and save unlimited chart layouts. It also offers additional features such as second-based intervals, alerts that don't expire, 4x more data on charts (20K bars), publishing invite-only indicators, 4x more intraday data in Bar Replay, etc.
FAQ
You might have some questions about which Tradingview plan is best for you. Here are a few FAQs to help you make your decision:
Is there a free trial?
Yes! Every plan offers a free trial period, so you can try out the features before making a commitment.
Is there a discount for students or educators?
Yes! Tradingview offers discounted rates for students and educators. You will need to provide proof of your status to qualify for the discounted rates.
Does Tradingview offer customer support?
Yes, they do! Support is available 24/7 via email and phone. You can also get help from their online community of traders and investors.
Can I cancel anytime?
You can cancel your subscription at any time, and it will not auto-renew after the current paid term. Paid service will remain active for the duration of the paid term. A canceled trial and associated services will stop immediately after cancellation, except for any purchased data packages.
What is your Refund Policy?

There are no refunds for initial orders (i.e. first-time purchases) or refunds for monthly plans. Refunds are available only after an automatic deduction for annual payments (i.e., after trial and after renewal) within 14 calendar days after the payment was made.
How can I pay for TradingView PRO?

PayPal handles the payment processing for us. Acceptable payment methods include all major credit cards, PayPal accounts, and Crypto. We guarantee you safe and secure online ordering.
Can I pay with crypto?

You can pay with crypto (BTC, ETH, BCH, LTC or DOGE) for the annual paid plans only. Coinbase handles the payment process for us. To pay with crypto, you'll need to switch on the tab titled "Crypto by Coinbase," located on the Order Page, and follow the instructions.
Conclusion
In summary, when it comes to choosing the best Tradingview plan for you, it's important to consider your budget, the features you need, and which platforms you wish to use. With free and paid plans available, you can tailor your Tradingview experience to suit your specific needs. There are a variety of data plans and tools available that can help you make informed decisions when trading. Learning the different plans, their features, and how to use them will help you make the most of your Tradingview experience.