The Forex Smart Pips Trading System is a double crossover trading strategy that uses four moving averages to identify market trends.
It has additional elements like daily pivot points and momentum oscillators to produce a complete trading formula for its users.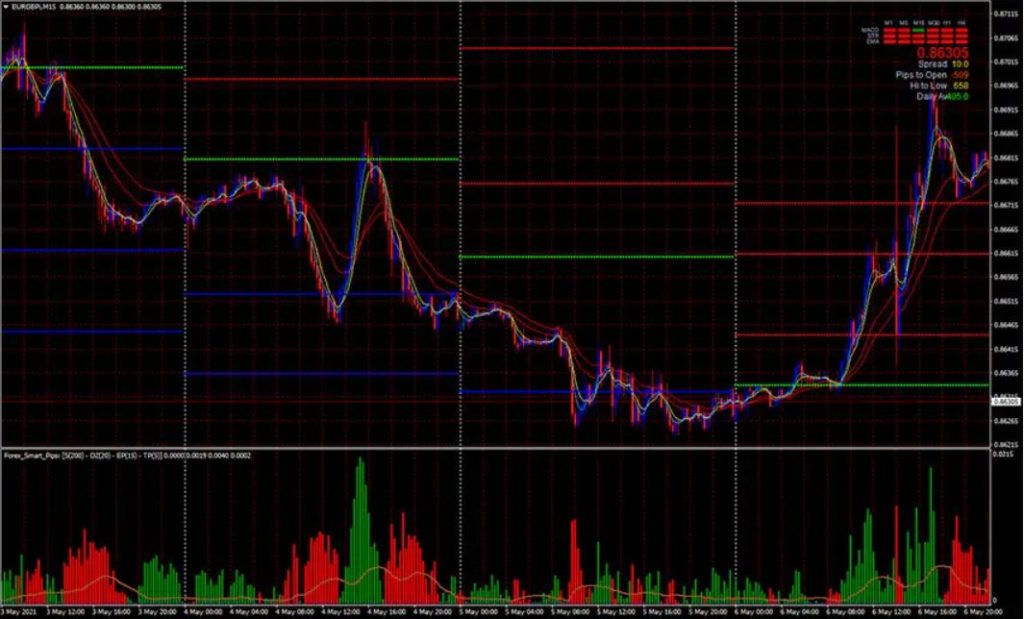 A tiny dashboard in the top right corner also informs MACD, STR, and EMA trends for each time frame (M1-H4). Plus, it provides info about the current spread, pips to open, high to the low, and daily average.
This indicator system fits all kinds of mt4 timeframes and currency pairs.
How does it work? How to apply in forex trading?
Trading Rules Explanation
Buy Entry
Enter long trade when the following conditions are met:
5LWMA moves above 8LWMA
18EMA is greater than 28EMA
The Daily Pivot level supports the price
FX Smart Pips bars turn green
Set stop loss below the current pivot level
Sell Entry
Enter short trade when the following conditions are met:
5LWMA moves below 8LWMA
28EMA is greater than 18EMA
The Daily Pivot level resists the price
FX Smart Pips bars turn red
Set stop loss above the current pivot level
Exit Trade / Take Profit
Exit trade when the 8LWMA and 5LWMA make the opposite crossover or use your method of trade exit.
As always, to achieve good results, remember about proper money management. To be a profitable trader, you must master discipline, emotions, and psychology. It is crucial to know when and when not to trade. Avoid trading during unfavorable times and market conditions like low volume/volatility, beyond major sessions, exotic currency pairs, wider spread, etc.
How to set up the Forex Smart Pips Trading Indicator System in MT4?
Files Included
Indicators:
#Signal_Bars_v6.ex4
Forex_Smart_Pips.ex4
PivotsDaily v2.ex4
Templates:
Forex Smart Pips System.tpl
Installation Guide
Copy and paste indicator files into the MQL4 folder of the MetaTrader 4 trading platform.
You can gain access to this folder by clicking the top menu options, which goes as follows:
File > Open Data Folder > MQL4 > Indicators (paste here).
Similarly, copy and paste the template file to the Templates folder.
Now, right-click on the chart, and hover over Templates. You will have displayed a list of available systems; left-click the template name you want to run.
Read More Tangoline Forex Indicator Free Download
Bottom Line
The Forex Smart Pips Trading System is worth adding to your trading collection but remembers to have realistic expectations. However, like any other technical analysis tool, it cannot provide accurate signals 100% of the time. Thus, it will give false signals occasionally. In addition, its performance will vary significantly depending on market conditions.
Forex Smart Pips Trading Indicator System Free Download