Elliott Wave Oscillator Indicator is an Elliott Wave wave MT5 Indicator Free to Download. It is a momentum oscillating indicator designed mainly to display price momentum and also to identify certain waves within the Elliot Wave theory from the results of this momentum.
The Elliott Wave Oscillator Indicator For MT5 has very similar parameters to the MACD, which explains the similar visual look, and each main parameter can be configured differently by the trader. In the indicator's default settings, a simple moving average applied to the median price with the periods 5 and 35 are plotted on the histograms.
The MT5 Indicator isn't a standalone trading indicator. This indicator can be handy for your trading as additional chart analysis, to find trade exit position(TP/SL), and more. While traders of all experience levels can use this system, it can be beneficial to practice trading on an MT5 demo account until you become consistent and confident enough to go live. You can open a real or demo trading account with most MT5 Forex brokers.
Using the this MT5 Indicator
Elliott Wave Oscillator could be used in three distinct ways. The first would be like most regular oscillators with histograms such as the MACD to discern momentum and trend-following. The classic method of using these is the zero line is treated as the middle ground, whereby peaks above the zero line are considered bullish, whilst peaks below the zero line are considered bearish.
The second method, like with all oscillators, is trading divergences. Not only can the divergences be traded as a standalone, but they can also form a bias to the overall wave cycle, which links into the third method. The third method, which is much more organized and complex, aligns more with the Elliot Wave theory and those that can trade with it.
The histograms could signal particular waves in the cycle, providing the trader a guide to where they are within the broader Elliot Wave cycle. Wave 3 of the cycle is particularly desirable as it is perceived to be the strongest and most liquid. Once a trader has successfully analyzed the first two waves by observing the depth of the histograms, they can either anticipate a strong move or anticipate Wave 4.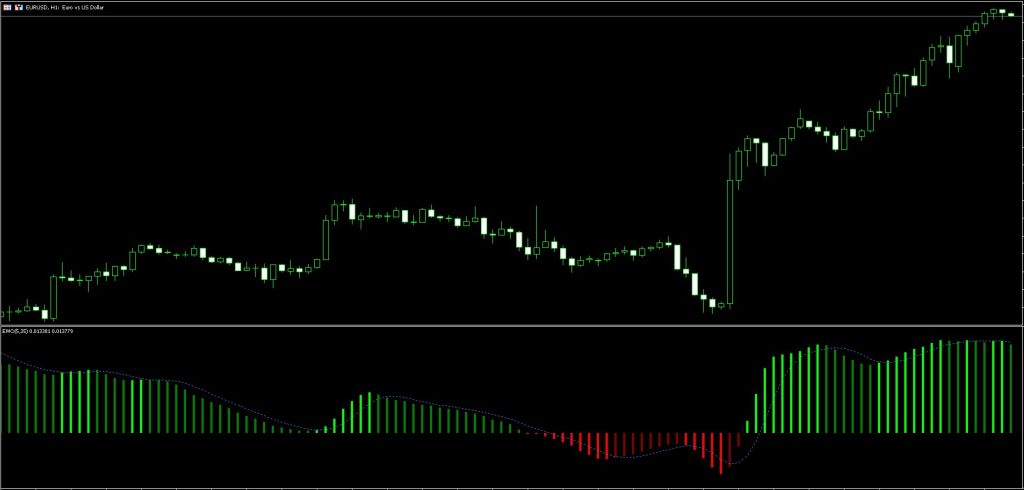 Elliott Wave Oscillator Discussion
Warning! If you do not know how to install this forex indicator, please read the MetaTrader Indicators Tutorial.
Do you have any more suggestions regarding this forex indicator? You can always Discuss Elliott Wave Oscillator Indicator with the other traders and MQL programmers on the indicators forums.